The Online Boating and Maritime Exhibition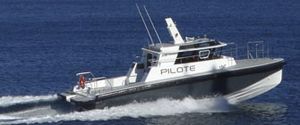 Length: 12 m
Pilot boat Architect : Vaton design / H2X Composite building Length : 12 meters Width : 4,5 meters Draught : 0,9 meter Displacement : less than 9,5 ton Max speed : 30 knots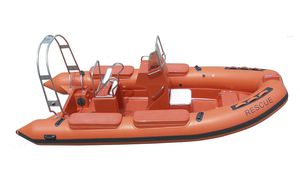 rescue boat
Piranha P550 Club
Length: 5.5 m
This wide beam RIB with deep V-hull is perfect for club patrol and rescue work providing both safety and performance. The heavy duty build of this RIB means that it is also suitable for ...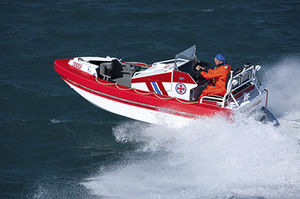 rescue boat
FLYING FISH 16X
Length: 5 m
Passenger capacity: 6 unit
THE MOST COMPACT FLYING FISH BOAT IN OUR RANGE WITH A LENGTH OF 5 METERS. IT WAS ORIGINAL DESIGNED FOR LAUNCH FROM SLIPWAY IN A LARGER RESCUEVESSEL AND HAS A COMPACT AND RUGGED HULL. THE BOAT CAN TAKE ...
See the other products
Gazelle Technology AS
Length: 14.5 m
Passenger capacity: 5 unit
Characteristics: LOA 14,50 m LWL 13,48 m B max 4,30 m Draft 1,20 m Displacement 14 tonnes Fuel capacity 2x1250 liters Max personnel 5 including crew Power 2x400 HP Speed 24 knots Bow thruster Optional Materials GRP Operating code Third ...
See the other products
Sibiril Technologies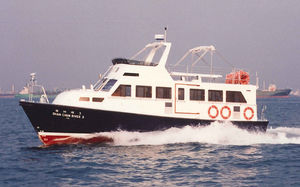 sightseeing boat
13.7 - 15.1M
Length: 15.1 m
Passenger capacity: 80 unit
A variety of superstructure, deck, accommodation and machinery configurations allow this vessel to carry up to 80 passengers, or cargo/passenger combinations. The efficient round bilge hull provides a comfortable ride. Over 200 units ...
See the other products
Cheoy Lee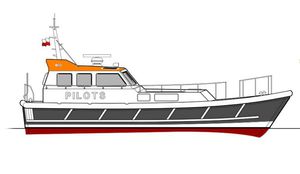 Length: 12.19 m
... reason these boats are chosen by so many who need a boat that is obliged to put to sea in the most challenging of conditions. We can deliver at any stage of completion from bare hull, hull and superstructure, ...
See the other products
Dale 
Length: 3.81 m
Our new series of inflatable canoes ARGUS are an outstanding example of combining the superior buoyancy, stability and performance of inflatable boat with the idea of the classic canoe. They are excellent ...
See the other products
GRAND Inflatable Boats
Length: 6.4 m
Passenger capacity: 9 unit
An economical boat comes with a seaworthiness certificate or a CE certificate. The boat is fitted with easily folding transparent screens made of material, which are very comfortable for the passengers ...
See the other products
Waterbus S.C.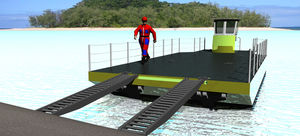 work barge
Container Barge 1200D
Length: 12.19 m
ContainerTug B.V. present a new small cargo support boat standard: the ContainerBarge 1200 D. This robust 12,2 metres dual diesel engine propelled cargo support boat, designed and built in the Netherlands, ...
See the other products
ContainerTug B.V.
Length: 11 m
... regualations. Design and Construction All boats have share the same well-proven design of a fully planing deep V hull in marine grade aluminium and superstructure of GRP sandwich construction. The ...
See the other products
Brødrene Hukkelberg AS
Length: 9.09 m
Passenger capacity: 8 unit
... offshore race technology to the leisure market, 29 RIB Tenders' wave piercing hull make distant shores a natural part of your territorial waters. She is a unique fusion of power, elegance and utility ...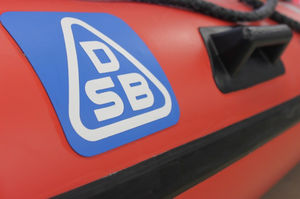 Length: 4.7 m
... economical. Built for a variety of end-users, including commercial and defence organisations, the DSB Inflatable Rescue Boats couple operater-friendly, advanced performance capabilities ...
See the other products
Deutsche Schlauchboot
Length: 20.76 m
MAIN CHARACTERISTICS: Length, over all abt. 20.76 m Breadth 6,40 m Height, up to main deck 2.80 m Draught 1.60 m Gross tonnage abt. 130 GT Accommodation: Passengers (summer) 140 (119 seated) Passengers (winter) 71 Crew 3 Vessel's ...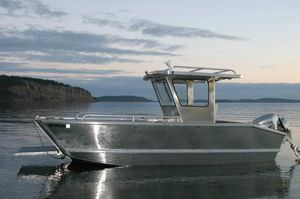 Length: 6.1 m
Lenght: 6,1m Width: 2,5 Door width: 1500mm Weight: 1150 kg Max cargo: 900kg Sheet: 5 / 4mm Max motor: 200HP Design category: CE-C
See the other products
ALUTEC BOATS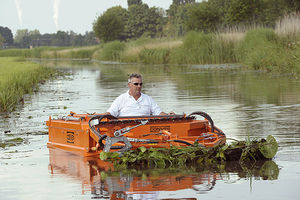 Length: 5.5 m
Passenger capacity: 1 unit
With a width of 160 cm, the Conver C420 is the entry-level model in the series of Conver mowing boats. The Conver C420 mowing boat is a versatile workboat for general maintenance of inland watercourses ...
See the other products
Conver
sightseeing boat
24 FOOT ELECTRIC LAUNCH
Length: 7.31 m
Passenger capacity: 10 unit
24 Foot Elco Electric Launch From the graceful (optional) horseshoe bench seats to the silent electric propulsion system, the Elco 24' fantail launch brings you all the warmth and integrity of a fine vintage watercraft. Designed to ...
See the other products
Elco Motor Yachts
Length: 21.05 m
Passenger capacity: 10 unit
Omschrijving:Steel Pilot Tender Start:wk 5/12 TWL:27-Nov-12 Oplev:wk 51/12 Afmetingen:21,05 x 6,2 x 1,5 Tonnage:75 GT Propulsion:1940 kW Year:2012 Type:Tender Subtype:High speed Deadweight: Ship specifics:two fixed pitch props Steel hull Speed:20 ...
See the other products
Barkmeijer Stroobos BV
Length: 9.11 m
The Rough Water™ 9.11 was designed out of a need from the Professional Marine community for a RIB that offered greater seaworthiness at speed in rough conditions as well as greater personnel ...
See the other products
Rosborough Boats

work boat
5012 LP VERSI-DREDGE®
Length: 13 m
The Model 5012 LP Versi-Dredge is ideal for dredging in canals, lakes, and marinas where maneuverability is confined areas is an issue. Like all Versi-Dredge systems the Starwheel Drive system allows the dredge to be completely self-propelled. ...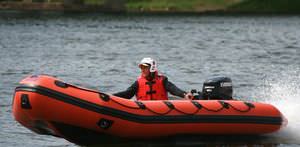 Length: 4.87 m
Passenger capacity: 8 unit
Designed specifically to meet the needs of demanding professionals and Special Forces, the NAV 10, NAV 14 and NAV 16 are ideal boats for performing multi-purpose tasks in complete safety. These boats ...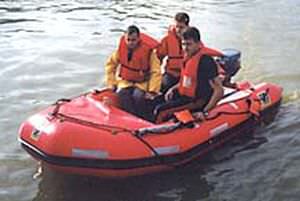 Length: 3.4 m
Passenger capacity: 5 unit
... SOLAS' rigid inflated rescue boat capable to crew 5 persons. It refers to EC Directive 2002/35/EC for fishing vessels of 24 meters and over and this is linked to the Torremolinos Convention for fishing vessels that allows ...
See the other products
Survitec Zodiac
Length: 6.4 m
The venetian taxi is the traditional motor boat used for VIP transport and high end taxi services around the canals of venice. Marine Classics are ideally qualified to make your venetian taxi or limousine ...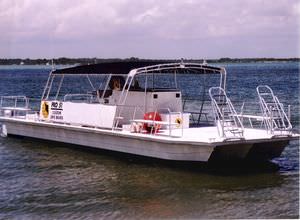 Length: 15.54 m
Found throughout the Caribbean where it has served for decades as the ideal calm-water dive and snorkeling platform, the Sea Hawk Pro 51 is now available as a U.S.C.G. Certified vessel that can carry 49 (or more) passengers plus crew. Built ...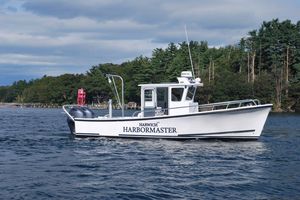 work boat
Eastern 27 - Commercial
Length: 27'00"
Twin 200 Yamaha Outboards Length : 27′ Beam : 10'3″ Fuel capacity : 192 gal.
Length: 7.1 m
Passenger capacity: 8 unit
With the extra space, the 7.1m RIB is the perfect craft for transporting up to 8 passengers or 700kg (1540lbs) of payload, The 7.1 and 7.7 are differentiated by the fact the 7.1M has a centralized internal motor and ...
See the other products
Sealegs International Limited