The Online Boating and Maritime Exhibition
patrol boat
8.5M GUARDIAN
Length: 8.5 m
Passenger capacity: 6 unit
... forefront of operations along coastlines. The 8.5m is a patrol and Interception Vessel - Aluminium Hull - 1 x Marine Diesel VGT450 336 kW - DOEN DJ 110 Waterjet - 42 knots @ Max The Guardian ...
See the other products
Nautic Africa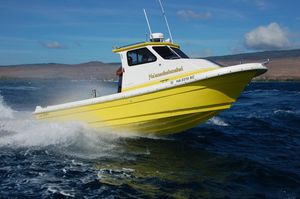 Length: 7 m - 8 m
D.R. Radon Boats has specialized in designing and building custom Patrol and Research boats for over 20 years. Customers include many Harbor, Surf & Rescue, and Fire Departments in California and Hawaii, ...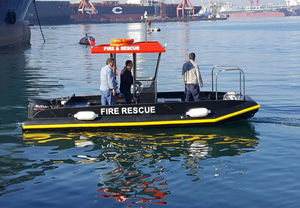 Length: 6.2 m
Passenger capacity: 8 unit
See the other products
ARTE BOAT YARD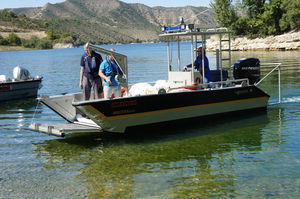 aluminum landing craft
Rescue 6.0 LC
Length: 5.99 m
Passenger capacity: 12 unit
... Capacity: 12 pax. Maximum power 225 cv. Dry weight: 1228 kg. Fuel tank: 160l EQUIPMENT Built with Marine aluminum AW-5083 H-111 of 3-4 mm. Unsinkable. 2 automatic Bilge pumps ...
See the other products
SHARKSILVER ALUMINIUM BOATS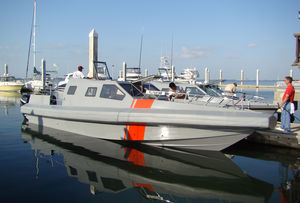 Length: 10.9 m
Passenger capacity: 6 unit
Mission The 36RHIB-EC (Rigid Hull Inflatable Collar Boat—Enclosed Cabin) is a versatile platform designed to get your crew to its objective quickly and return home safely in the most challenging sea ...
See the other products
Tampa Yacht Manufacturing LLC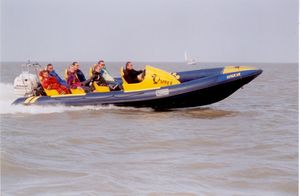 Length: 8 m
Passenger capacity: 14 unit
... Enough dry and wet storage than any other rib - Longlife endurance of the materials needed to be guaranteed, performance and quality had to be unmatched and everlasting. And finally ….. to be the fastest rib ...
See the other products
Osprey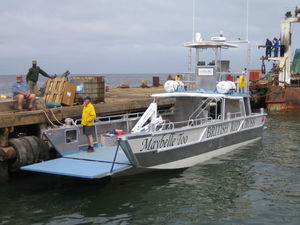 landing craft
Workstar 13
Length: 12.93 m
Passenger capacity: 10 unit
... 13mLC was built by Aliboats from a fully comprehensive kit supplied by Working Boats, trucked to Walvis Bay in Namibia for sea trials and then shipped to the Maldives. Working Boats supplied a skipper ...
See the other products
Pacific Workboats cc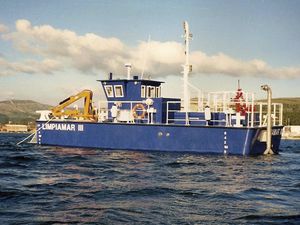 pollution control boat
BUQUE DE LIMPIEZA CAROU T10 y T13
Length: 10 m
... ............................ 1,00 mts The propulsion of ship in carried out by two marine diesel engines that drive two PUM-JET, but we can also install any other propulsion system required.
rescue boat
HIGH PERFORMANCE 5.4m
Length: 5.55 m
Passenger capacity: 8 unit
... lifted bow, which helps to secure remarkable sea keeping properties for a boat of its size. The 5.4m is very agile and can turn in a tight radius. As with all of the Tornado boats we manufacture the 5.4m ...
See the other products
Tornado Boats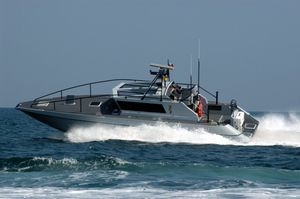 Length: 13 m
Passenger capacity: 4 unit
The "V2000" is a 13m Fast Patrol Boats specifically designed for law enforcement duties and for patrolling missions in coastal waters: 80 units have been built so far. It is made of FRP using an innovative construction ...
See the other products
Rodriquez
Length: 7.6 m
Passenger capacity: 12 unit
... of continuous and dependable service. Available options include: shock mitigated seating, marine electronics, choice of outboard propulsion, and a range of marine safety equipment.
See the other products
Fluid Watercraft
Length: 12, 5.5 m
Passenger capacity: 12 unit
Aluminium vessels designed and built by Navalu Shipyard. Make easier access to oyster parks according to tides thanks to her shallow draft. A wide deck enables easier oyster bags' handling.
See the other products
Navalu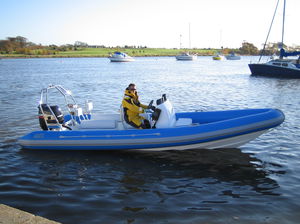 Length: 6 m
Passenger capacity: 10 unit
The 6m Solent Rib is ideal for anyone looking for a larger boat that will give excellent performance within a realistic budget. The deep V hull allows the rib to perform well at speed ...
See the other products
Solent Ribs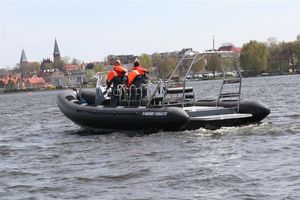 work boat
PARKER 750 BALTIC
Length: 7.5 m
Passenger capacity: 1 unit - 12 unit
... designed for twin engine installation, the Baltic models are now very much established in the Parker RIB range and are offered to the professional, commercial and military markets where ...
See the other products
Parker RIBS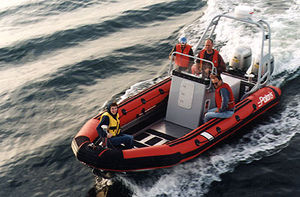 utility boat
19'6" NEPTUNE
Length: 5.94 m
Passenger capacity: 14 unit
... Forward bow locker (lockable) Inner hull drains Stainless steel back plated boat lifting rings Transom towing eyes Bow ring for towing or trailering Two foot pumps Professional repair kit Manual
See the other products
Polaris boat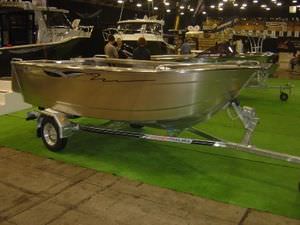 utility boat
400 Tiller Dory
Length: 4 m
See the other products
Marco Boats
patrol boat
Mowe Bay - LP 60
Length: 22.8 m
MAIN CHARACTERISTICS Length overall 22,80m Breadth (B): 5,5m Depth (D): 2,74m Draft (T) 1,95m Speed: 25 knot Type Fast Patrol Boat in aluminum Hull 572 Customer Namibian Navy Year 2011
See the other products
Inace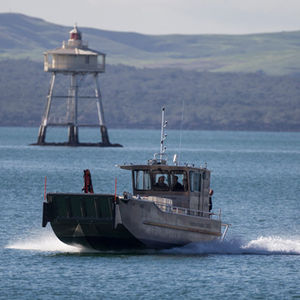 oil spill recovery barge
HM5
Length: 11.6 m
In the aftermath of the oil spill which resulted from the grounding of the container ship Rena on the Astrolabe Reef in New Zealand's Bay of Plenty, Auckland Council identified the need to improve Auckland's own readiness to respond to ...
See the other products
McMullen & Wing
military boat
X2K RIB Interceptor
Length: 11.3 m
Passenger capacity: 4 unit
GENERAL DESCRIPTION The 11.30 meter X2K RIB Interceptor, is an advanced high-speed craft, extremely well suited for fast response interdiction, surveillance, patrol, law enforcement, counter-piracy efforts, search and ...
See the other products
North Sea Boats
Length: 9 m
Passenger capacity: 50, 40 unit
... carrying up to 40 passengers Glass bottom boats are used extensively by day cruise operators and island resorts on The Great Barrier Reef for the purpose of viewing corals and marine life. Glass ...
See the other products
English Engineering
patrol boat
REFLEX 850 SPYDER
Length: 8.3 m
MAIN SPECIFICATION: Patented, high performance Reflex Mk III Tri-Hull design. Twin outer planning sponsons, ride making and wave piercing centre hull. RAM patented, ram-air drag reduction system & aerated contact surfaces. Durable Kevlar ...
See the other products
Reflex Advanced Marine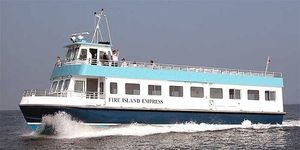 Length: 21.6 m
Passenger capacity: 260 unit
Designed by Propulsion Data Services, the new ferry is a traditional USCG Subchapter K passenger vessel. The design of the vessel is based upon and improves that of the Fire Island Clipper. Hull and superstructure are of aluminum alloy. ...
See the other products
Derecktor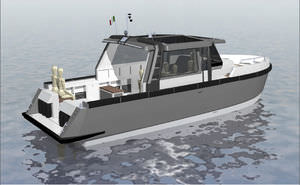 water taxi
EC 30 WATER TAXI
Length: 9.53 m
... by the ship owner in any moment and without any difficulty. Therefore the boat can be converted either from open to closed cockpit. Have you ever experienced a nine meters boat, whose main deck can be ...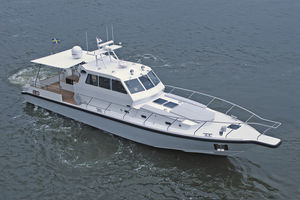 Length: 18.7 m
Passenger capacity: 8 unit
... Dockstavarvet AB an exceptional yachts in appearance of patrol vessels were built in Conrad Shipyard. This outstanding boats under work code SUC 16M VIP were built for the owner from Middle East and are ...
Length: 10.2 m
Passenger capacity: 12 unit
... manoeuvrability and sea keeping abilities in heavy sea in order to fulfil its prime function - to perform as an effective work platform. The boat is further designed to operate away from the mother ship ...