The Online Boating and Maritime Exhibition
Length: 5.55 m
Passenger capacity: 10 unit
The MZB 55/AB with an outboard engine was constructed for fire brigades and other rescue organizations. It has room for up to 10 persons and provides considerable storage space. Up to 2 persons can be transported lying down. The MZB 55/IB ...
See the other products
Lehmar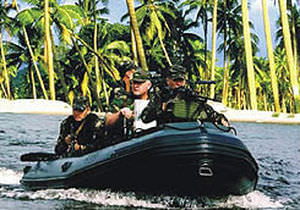 Length: 4.4 m
Passenger capacity: 6 unit
Rubikon 'For every professional need - and even more' When a boat is required for the most difficult of conditions, and where utter and total reliability is the priority, the Rubikon series of boats ...
See the other products
Adventure Inflatable boats
Length: 2.3 m
Passenger capacity: 3 unit
... are specially designed for professional use as work boats or rescue boats with a heavy load capacity, spcious deck , V-shape bottom and A-design boats ...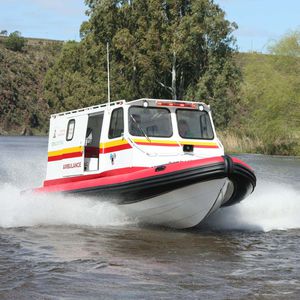 Length: 7.3 m
Passenger capacity: 14 unit
Falcon ambulance rigid inflatable boat – Using the proven Falcon 760 as its base, The Falcon ambulance was developed to provide medical support in regions far removed from civilization. A CAD-based aluminium cabin design ...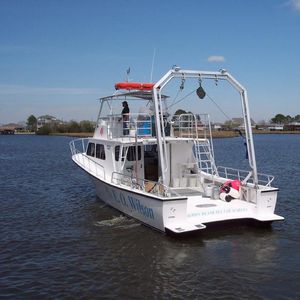 scientific research boat
46'
Length: 14.02 m
Our 46' and 36' Newton Research boats are custom built for the marine research teams specifications. The options are limitless. We can modify anything but the hull. We have built our Research boats ...
See the other products
Newton Boats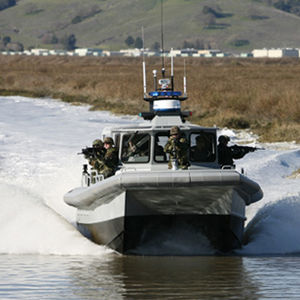 Length: 35'01"
SPECIFICATIONS LOA: 35'-10" LWL: 29'-6" Beam: 13'-6" Draft (max): 22" Dead Rise (aft): 15º Dead Rise (entry): 55º Freeboard: 42" at midship Displacement: 13,000 lbs. Fuel Tankage: 300 gal. PROPULSION Type: Twin Outboards with a horsepower range ...
See the other products
Moose Boats, Inc.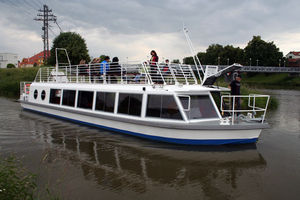 Length: 16.2 m
Passenger capacity: 60 unit
OML 60 "Morava" is passenger ship for 60 passengers. She was specialy designed for limited conditions of Bata Canal and river Moravia. There are very low bridges therefore her superstructure is very low and fence on the sundeck can be ...
Length: 9.3 m
Passenger capacity: 10 unit
... resque, skiing, towing inflatable toys, travelling and nautical camping. I It is lighter and cheaper from the Offshore and Corvette series because of the more simple structure and the need for less ...
See the other products
Mostro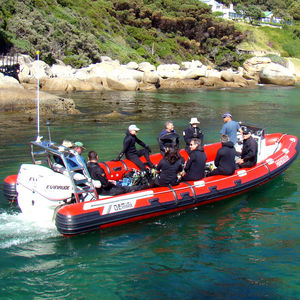 rescue boat
WAVERIDER 850
Length: 8.5 m
Passenger capacity: 14 unit
... reliability. The WR 850 can be seen in use with Rescue, Patrol, Tactical operations, Anti-Terrorism, ship boarding, Military, Commercial charter and thrill ride operations in the majority of our 40+ countries that we export to.
See the other products
GEMINI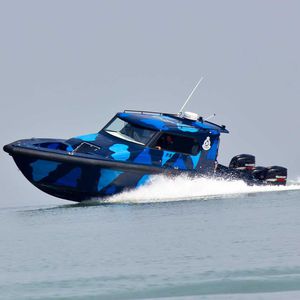 patrol boat
Predator 40 (Cab)
Length: 12 m
Passenger capacity: 8 unit
... + knots. With fuel capacity of 1100 litres, it has an operating range of more than 250 nautical miles at 35 knots of speed. It has the ability to turn inside 7 boat-lengths at 40 knots. The Predator 40 ...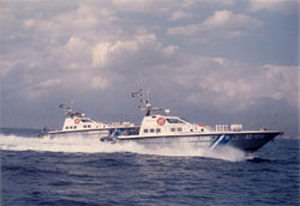 Length: 16.8 m
... crafts while its Diesel consumption is reduced allowing for long Ptrolling times. The arrangement allows for a small boarding boat to be mounted in the Aft platform while the cocpit arrangement allows the user to board ...
See the other products
Motomarine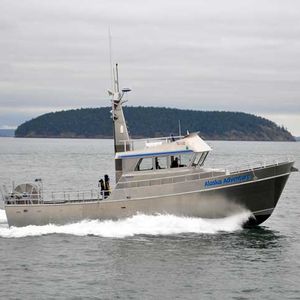 professional fishing boat
55' Combination
Length: 55'00"
The 55' combination was designed and built for a customer who wanted to do more than fish. Although the vessel is an excellent long liner and gillnetter, it was also USCG certified for 12 passengers and had a knuckle crane and other devices ...
See the other products
Rozema Boats Works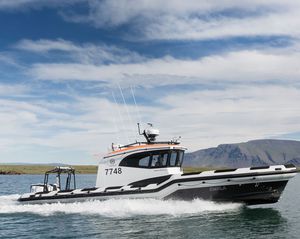 Length: 11 m
Rafnar's Leiftur 1100 is a third-generation tactical RIB that has been thoroughly tested and developed in close co-operation with the Icelandic Coast Guard, who carried out extensive sea trials that played a critical ...
See the other products
Rafnar ehf
fishing trawler
069 - Fairway II
Length: 23.16 m
Passenger capacity: 6 unit
Delivered: January 1989 Owner: Alex Summers, Scotland Design: SIMEK Type: Whitefish - Trawler Class: Lloyd's Register + 100 A1 - Fishing Vessel + LMC Main Particulars: Deadweight: 125 t Length o.a.: 23,16m Length p.p.: 19,80 m Beam: ...
See the other products
Simek AS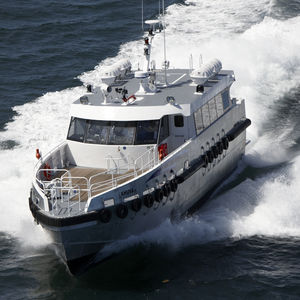 Length: 19.2 m
Passenger capacity: 25 unit
SPECIFICATIONS Beam: 5.5 Meters Draft: 1.1 Meters Passengers: - Construction: Marine Grade Aliminium Main Engines: 2 x MAN 284LE413 Speed: 30 Knots Fuel Capacity: 1 x 4400 Litres Propulsion: 2 x Hamilton ...
See the other products
Veecraft Marine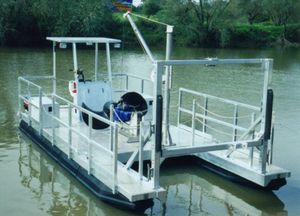 Length: 6.5 m
... we can design, engineer and construct to your needs. We have manufactured sludge pontoons, aerating pontoons, hose floats, work platforms, specialized moving craft, pontoons, floating bridges, pump pontoons and more.

Length: 7 m
Passenger capacity: 13 unit
Specifications Length Overall (LOA) (Feet): 23' Length Overall (Meters): 7.0 Beam Overall (BOA) (Feet) : 8'-6" Beam Overall (Meters): 2.6 Deadrise at Transom (Degrees) 25 Draft (Engine Trimmed Up) (Inches): 25" Max HP: 400 Fuel ...
See the other products
Safe Boats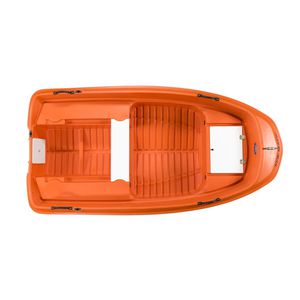 rescue boat
NEW MATIC 300
Length: 3 m
Passenger capacity: 3 unit
... craft for freshwater and sea use This is a solid and stable boat that is ideal for both sea and freshwater use. It is the smallest of our rescue boats therefore easy to transport. The boat ...
See the other products
RIGIFLEX SAS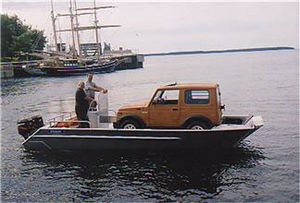 landing craft
Bull Nose 22
Length: 6.71 m
Landing Craft for Recreational, Commercial & Law-Enforcement applications. Boat pictured is a Bull Nose 22'x8'6". Twin outboard powered. Boats are available in stock sizes from ...
See the other products
Two Harbours Marine
professional fishing boat
PURSE SEINER
Length: 12.72 m
Passenger capacity: 8 unit
... PROPULSION: FundiBronze SPEED SPEED: 9.0 knots TANKS FUEL: 4.8m3 FRESH WATER: 0.2m3 BILGE/ SLUDGE (HYDRAULIC): 0.4m3 NAUTICAL AND COMMUNICATION RADAR: Furuno ECHO SOUNDER: Furuno GPS PLOTTER: Furuno AUTO PILOT: ...
See the other products
Estaleiros Navais de Peniche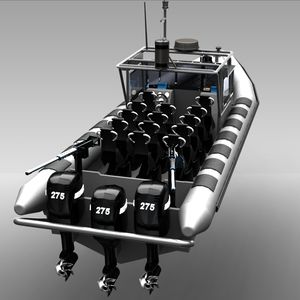 patrol boat
MR-1050 ASSAULT
Length: 10.5 m
Passenger capacity: 16 unit
MR-1050 ASSAULT From a small standard rhib which offered no protection for the crew, nowadays a rhib should be a more flexible multirole platform where modularity and multirole is very important in order ...
See the other products
Madera Ribs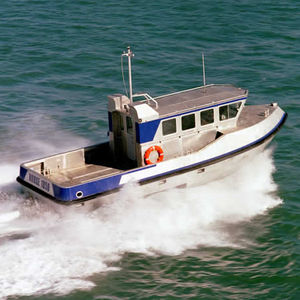 Length: 10.4 m
... Potential uses for the Norse 1050 include Crew Transfer, Patrol Duties, Hydrographic Survey, Harbour Launch, Pilotage and Safety Boats. The design and construction techniques that are used to build the Norse range enable ...
See the other products
HolyHead Marine Services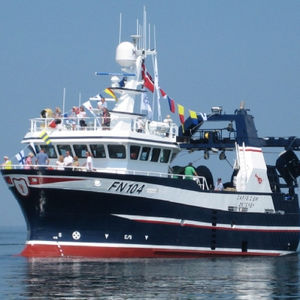 fishing trawler
CARPE-DIEM
Length: 19.95 m
Passenger capacity: 7 unit
Length overall:​ 19,95 m Length between pp: 17,50 m Breadth moulded: 7,30 m Depth main deck: 3,30 m Depth shelter deck: 5,55 m CLASS: None – built under survey of DMA ​ MAIN ENGINE: MTU/Detroit: ...
See the other products
Karstensens Shipyard Ltd.
Length: 9 m
Passenger capacity: 14 unit
... most robust, complete, offshore charter rib in Scandinavia. With great transverse stability and balance, this boat puts the crew and captain at ease regardless of sea conditions. A very dry and capable ...
See the other products
C-RIB
Length: 11 m
Passenger capacity: 12 unit
... galley corner, an insulated toilet with a washstand and shower. Modifications: - fast rescue boat - work-boat - life-boat - expedition boat Buy an aluminum boat ...
See the other products
TRIDENT Aluminium Boats