The Online Boating and Maritime Exhibition
Length: 11.78 m
Passenger capacity: 12 unit
... yachts', hotels, or for yachtsmen who just want the best-looking boat ever made. With its sleek lines, our Venetian Tender is a unique reinvention of the traditional Venetian taxi. The boat has full standing ...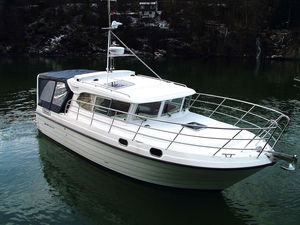 Length: 10.66 m
Passenger capacity: 2 unit
... comfort; everything the modern fisherman has come to expect. We work closely with each and every customer, tailoring the boat to meet your individual requirements. A Viknes 1030 KS is a boat ...

pollution control boat
Nicolae Zeicu
Length: 24.7 m
Passenger capacity: 3 unit
This 24.5m waste collecting or oil recovery ship is named "Nicolae Zeicu" and is based in Constanta, Romania. It will be used in the port of Constanta to collect and recover water pollution of any kind. To this end, it has been equipped ...
See the other products
Fassmer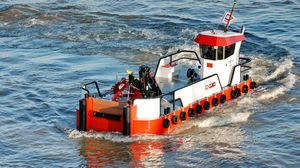 Length: 10.4 m
... personnel. To date, IHC Merwede has supplied more than 500 standard and custom-built work boats worldwide. The DMC range is available for immediate delivery and every work boat is tested ...
See the other products
Royal IHC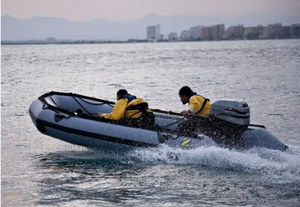 Length: 4.7 m
Passenger capacity: 9 unit
... Grand Raid™ boats form the backbone of many small boat fleets and are pretty much unique in its full equipment definition. They continue to answer the needs of users worldwide. Zodiac Milpro™ is proposing ...
See the other products
Zodiac Milpro International
Length: 4.9 m
Passenger capacity: 6 unit
... service in the most demanding environments15–40 Hp outboard enginesComplies with SOLAS regulationsPerfect alternative for inflatable MOB's
See the other products
Palfinger Marine GmbH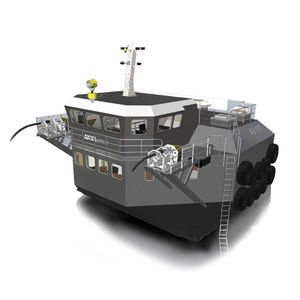 aquaculture boat
AJ 150/96
Length: 13.3, 14.5 m
The perfect models for smaller facilities with four to six silos. blue-line-headers-4px Feeding capacity dimensioned based on customer needs Dimensioned to withstand up to 3m significant wave height (Hs) ​Comfort model's raised ...
See the other products
AKVA Group ASA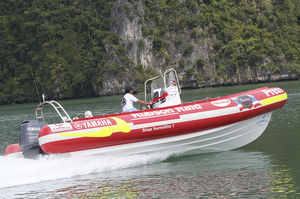 Length: 9.1 m
Passenger capacity: 22 unit
Bussola / Compass Console di guida / Steering console Gonfiatore elettrico / Electric inflating pump Luci di navigazione / Navigation lights Kit pulizia / Polishing kit Musone prua VTR / FRP bow roller Panca guida leaning post / Leaning ...
See the other products
Capelli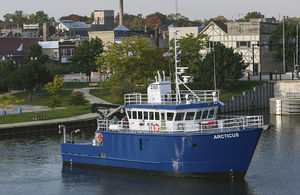 oceanographic research boat
ARCTICUS
Length: 23.6 m
... GLSC) large vessel fleet up-to-date. The R/V ARCTICUS is stationed at the USGS base in Cheboygan, MI and incorporates modern marine standards and state-of-the-art technology to safely and effectively conduct fisheries ...
See the other products
Burger
Length: 4.69 m
Passenger capacity: 6 unit
LOA 15' 5" / 4.69 m BEAM 6'6" / 2 m DRAFT 7" / 18 cm DEADRISE 16 ° BOAT WEIGHT* 1050 lbs / 476 kg WEIGHT CAPACITY 1400 lbs / 635 kg FUEL CAPACITY Portable Tank PERSON CAPACITY 6 MAX HORSEPOWER 60 hp / 45 kW MIN ...
See the other products
Brunswick Commercial and Government Products
Length: 8.75 m
Sporting a large rear deck area the 8.5m Cabin proves to be the most popular professional work boat by far. Unloading and loading or even mid-ocean boat to boat transfers ...
See the other products
Rayglass Boats
military boat
380 / 480 / 520
Length: 3.8, 4.8, 5.21 m
Passenger capacity: 10, 9, 6 unit
... with removable inflatable or wooden keel, with removable aluminium, wooden or inflatable bottom. Arimar inflatables are sturdy and lightweight, easy to stow and carry. They offer strong resistance to ...
See the other products
Arimar
rescue boat
MP 1000 FRDC MKII
Length: 10 m
Passenger capacity: 10 unit
... according to LSA code for rescue boats. The strength of the hull and superstructure is sufficient to withstand all normal forces encountered under normal use offshore at maximum boat speed. The hull ...
See the other products
Maritime Partner AS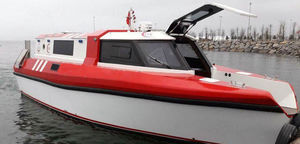 Length: 8 m - 17 m
Mavideniz, Ambulance Boat designed for patient transfer, emergency response, outpatient treatment, transfer of medical supplies at sea, river, or lake. Ambulance Boat equips with medical equipment equal ...
See the other products
Mavi Deniz
Length: 10.5 m
Passenger capacity: 15 unit
l.o.a.: 10,5 m b.o.a.: 3,30 m l.w.l.: 9,10 m Draught hull: .50 m Draught engines: - Deadrise aft: 23 degrees Tube diameter: 0.6 m Number of chambers: 7 Tube material: Hypalon/Neoprene (orca) 1670 DTEX Propulsion: Inboard diesel ...
See the other products
Essential Marine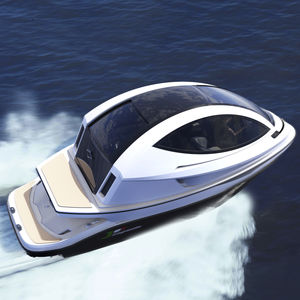 Length: 6 m
Passenger capacity: 6 unit
... and private jet, the aerodynamic shell is completely fabricated in dry carbon infusion, which keeps the total weight of the boat under 1500 kg/3300 lbs. the interior was designed to ensure continued luxurious convenience ...
See the other products
JET CAPSULE S.r.l.
search and rescue boat
1050 QRV HT
Length: 10.5 m
... house version, the AMF 1050 RIB is powered by twin 370Hp inboard diesel engines and jet units. Available with removable side tube section for easy boarding. Excellent holeshot and sprint speed, the perfect chase ...
See the other products
AMF Boat Company
Length: 18 m
Next Generation Multitask Patrol Boat (18 m) Name:RV90 Type:Multitask Patrol Boat Length:18 m Classification:TRAFI Design Category A - CE Certification Material:Aluminum, Ice-Strenghtened
See the other products
UKI Workboat
Length: 12 m
Passenger capacity: 7 unit
Dimensions Overall length : 12.00 m Overall width: 5.00 m Crew : 7 Toa l power : 2 x 185 hp Speed : 8 Knots Deadweight : - Fuel oil : 6000 liters Classification : - Protection Fender Long lasting paint system Sacrificial ...
See the other products
See Merre
Length: 32'00"
... possible shallow water landings. It is also a combination vessel that can be equipped with a pump for those agencies that need marine fire fighting capabilities, with or without foam. EMT's and paramedics can be accommodated ...
See the other products
Stanley Aluminum Boats
search and rescue boat
P42 SAR
Length: 12.6 m
The Hydrolift Professional platform introduces the unprecedented highly reusable and modular platform, focusing on safety, performance, reliability and usability with a significant cost reduction compared to one-off ...
See the other products
Hydrolift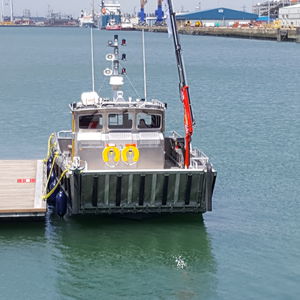 Length: 11.95 m
Passenger capacity: 14 unit
Length11,95 m Total length12,50 m Beam 4,45 m Weight (without engine)8900 kg Fuel tank capacity2 x 270 l/3 x270 l Max. engine power3 x 350 hp Sheet metal6- 8/8 mm Person capacity14
See the other products
MS Boat
Length: 5.42 m
Passenger capacity: 10 unit
See the other products
Italboats
Length: 7.5 m
Passenger capacity: 20 unit
The KFX 750 is the big brother of the KFX work boat range. At 7.5 (L) x 2.5 (W) x 2.7 (H), it offers a dual motor mount, transom-mounted tow bar with bollard, wet deck, jump seat boxes which closely flank the raised ...
See the other products
Ocean Legacy Marine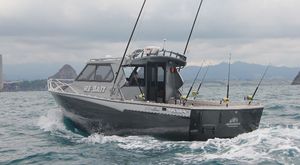 professional fishing boat
Length: 10.5 m
The latest White Pointer is the most dedicated fishing design we have developed. It incorporates an easy access walk-around engine station with no obstacles on the floor to step over or trip on when engaged in a battle with a fighting ...
See the other products
White Pointer Boats Ltd