The Online Boating and Maritime Exhibition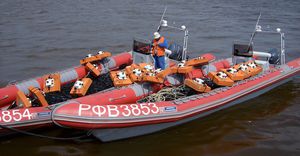 search and rescue boat
FAST-1000
Length: 9.99 m
Passenger capacity: 12, 25 unit
FAST-1000 BATHYMETRY STUDIES Standard equipment PVC buoyancy tube PRFV hull grey medium color Reinforced rubbing strake fender Fuel tank compartment with integrated lid (except 750) Transom with anti back-flow Electric automatic ...
See the other products
Narwhal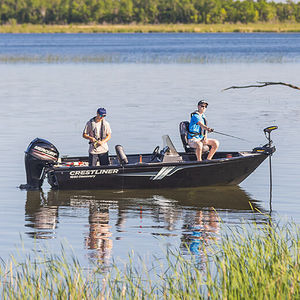 utility boat
1650 DISCOVERY
Length: 16'07"
Passenger capacity: 5 unit
For an ideal day on the water, look no further than this deep-v fishing boat. Featuring plenty of livewell room, rod storage and ample room to put your stuff, the 1650 Discovery will help you find that ultimate fishing ...
See the other products
Crestliner
Length: 10.06 m
Passenger capacity: 25 unit
See the other products
Novurania

military boat
950 RAFALE®
Length: 9.45 m
Passenger capacity: 17 unit
The 950 RAFALE® is one of the largest boat of the SILLINGER range. Its large deck area offers an exceptional modularity. Dedicated to professional and military heavy duty, it allows carrying 30 persons. ...
See the other products
Sillinger
Length: 19 m
Passenger capacity: 4 unit
... 1A, EO DESCRIPTION Single-deck tractor tug with two azimuth thrusters located under the hull in fore part, destined to work in harbours. MAIN PARTICULARS Length over all 19,00 m Breadth moulded 9,00 m Depth ...
See the other products
Remontowa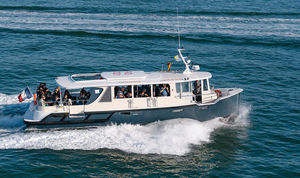 passenger boat
CNB PRO 13
Length: 14.5 m
Passenger capacity: 49 unit - 54 unit
• Type of craftSemi-planingmonohull • ClassificationNational Freeboard Certificate – BV NR600 • FlagFrance • CustomerUBA • Built byCONSTRUCTION NAVALE BORDEAUX • ArchitectCLYD • MaterialComposite • Length overall14.15 m • Length of hull14.00 ...
See the other products
CNB PRO
pollution control boat
Delta Responder
Length: 7.5 m
The Delta Responder has been designed to be a very versatile commercial craft, for use in oil spill and general harbour duties. The craft has a fully welded aluminium structure with large internal deck area and a bow ...
Length: 12.99 m
Passenger capacity: 12 unit
DIMENSIONS -Length Overall (LOA)12.99 m -Beam (B)3.99 m -Draught (T)0.95 m PERFORMANCE -Speed25 knots -Cruise Speed20knots -Range 160 nm -Displacement13 ton -Hull &SuperstructureAluminium Alloy 5083&6082 PROPULSION ...
See the other products
DEARSAN SHIPYARD
Length: 14'10"
Passenger capacity: 4 unit
Max Horsepower 30 hp Beam 77 in Dry Weight 540 lbs Max Persons 4 Interior Depth 20.5" in Bottom Guage .080 Side Guage .060 Max Capacity 555 lbs Fuel Capacity Portable gal Length 14'9" Transom Height 20 in Deadrise at Transom 15 deg
See the other products
Stardeck by starcraft
Length: 4.5 m
Passenger capacity: 6 unit
The Command 15 R is a light Class C boat, with a medium V and of easily trailable size. Suitable for both river and maritime use, it can be launched effortlessly for rapid deployment. It is characterized by its pointed ...
See the other products
Zeppelin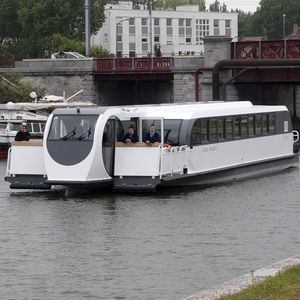 Length: 19.7 m
Passenger capacity: 70 unit
This new ship is a waterways passenger shuttle boat built for the city of Calais, France. The trip will take about 35 minutes to cover the four kilometres and serve the four scheduled stopovers. This 20-metre inland ...
See the other products
Alumarine Shipyard
passenger boat
S-102 M/V SUPER EMERALD
Length: 19.81 m
Passenger capacity: 76 unit
The Super Emerald is a passenger ferry, built for Mitsubishi Corp. in 1991.
Length: 7.76 m
Passenger capacity: 5 unit
XO DFNDR is a boat that is of its own type and is equipped with attitude! It is a 25ft boat that is meant for tough and active use. It is a boat for the adventurous minds, for outdoor ...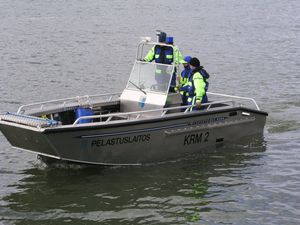 Length: 6.5 m
Passenger capacity: 6 unit
The LC 6500 is a robust landing craft made of high grade marine aluminum with a 1.1 m (43.3 in) wide bow ramp. The landing craft is designed and tested for excellent and effortless sea handling and maneuverability in ...
See the other products
LAMOR
Length: 9.95 m
Passenger capacity: 32 unit
... square meters and 2,800kg capacity. Charters and cruises are what this boat can easily handle. Included accessories allow you to work day or night, summer or winter. This boat can ...
utility boat
260 SUPER PRO
Length: 7.8 m
Passenger capacity: 18 unit - 24 unit
See the other products
BWA
Length: 5.06 m
Passenger capacity: 8 unit
A compact and sturdy open boat, customizable as required: Asso 50 is perfect for both work and fishing. Inexpensive, spacious and versatile!
See the other products
Asso-Prestige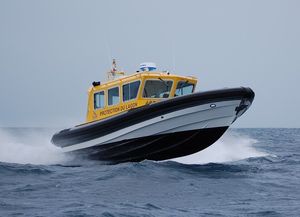 utility boat
11.00 HB CABIN
Length: 11 m
Passenger capacity: 18 unit
Ufast offers a complete range of professional rigid-inflatable craft with command console or cabin, out-board or in-board diesel engines combined with stern-drives, surface propellers or hydrojets.
Length: 6.6 m
You are looking for an aluminum work boat with the possibility of customizing the platform? The Voyageur pontoon is for you. Simple and durable, it's a purchase you won't regret! GENERAL SPECIFICATIONS Overall length ...
professional fishing boat
Length: 20.99 m
See the other products
Moen Marin AS
See the other products
akuakare
Length: 5.5, 6.5, 7.5 m
... given by outboard engine with power up to 150HP. ​ Each boat is certified according to the standards set by the European legislation (CE). We manufacture tree types of work boats: 5.5 ...
fishing trawler
ANTIOCHE 550
Length: 5.38 m
Passenger capacity: 5 unit
See the other products
Guy Marine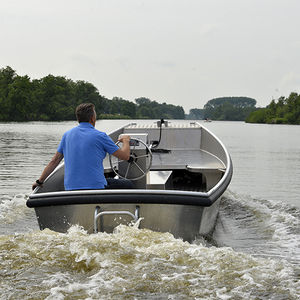 push tug
Amesterdam Pusher
Length: 5 m
Passenger capacity: 8 unit
... zelflozend The joy of a complete maintenance free aluminum boat combined with a care free inboard fuel tank makes this Alufleet Amsterdam Pusher both the ultimate canal boat as a perfect professional ...
See the other products
Alufleet B.V.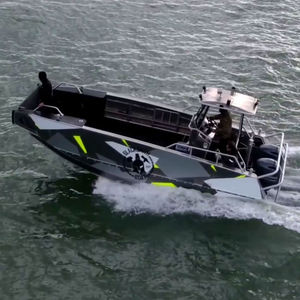 See the other products
Blacksmithboat