The Online Boating and Maritime Exhibition
Length: 12.95 m
Passenger capacity: 46 unit
Length: 12.95 m Beam: 4.5 m Draft: 0.51 m Displacement full load: 12500 kg Engines: 2 * 115hp Fuel tank: 2 * 250 L Passengers: 46 P Max Speed: 12 knots
See the other products
aurora (dalian) yachts co ltd
rescue boat
RB 4.3 series
Length: 4.52 m
Passenger capacity: 6 unit
Montmontaža-Greben's rescueboat are made of glass reinforced plasctics, produced in two version: - as standard rescue boat equipped with outboard engine of 15HP, - selfrighting rescueboat equipped by inherent bouyancy ...
See the other products
Montmontaza Greben
Length: 9.2 m
LENGTH O.A.9.2m BREADTH3.60M DEPTH1.50M DRAFT0.65M SPEED47Kts MATERIALAluminum
See the other products
Lung Teh Shipbuilding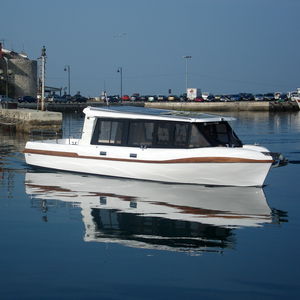 passenger boat
AQUABUS 1050T
Length: 10.5 m
Passenger capacity: 24 unit
Perfect working tool for tourism operators, the Aquabus 1050T and its efficient electric propulsion allows a clean navigation and discovery of the environment without nuisance such as noise, CO2 emissions or vibrations. Its quality / ...
See the other products
Grove Boats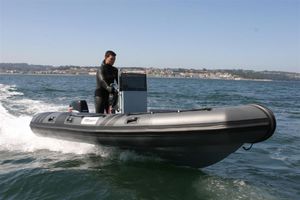 Length: 4.99 m
Passenger capacity: 12 unit
... the manufacturing of professional RIB´s for professionals. The complete production process is geared around producing a boat that meets the final customers wishes without compromising ...
See the other products
NEUMATICAS DE VIGO
passenger boat
ECOBUS-BOAT
Length: 14.4 m
Passenger capacity: 50 unit
... The roof of the boat is equipped with 39 solar panels SUNPOWER (345 wp). Boat with outstanding performances due to its low draft and maneuverability to provide tourist services, both on the coast and ...
See the other products
METALTEC NAVAL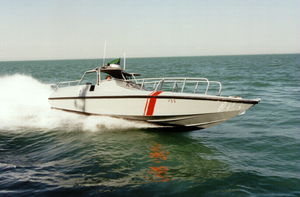 patrol boat
Cougar Enforcer 40
Length: 12.19 m
Passenger capacity: 6 unit
... The Enforcer 40 is powered by twin inboard diesel engines driving either waterjets or surface drive for higher speeds via a marine hydraulic gearbox. The cockpit is configured for two crew and four specialists with ...
See the other products
Griffon Hoverwork
Length: 11.6 m
Passenger capacity: 26 unit
... comes with two main entrances. To speed up passenger exchanging, all the boats in the Passenger series are designed so that they can go ashore bow first. MODELPASSENGER BOATS LENGTH11.6 M BEAM3.5 ...
See the other products
Kewatec AluBoat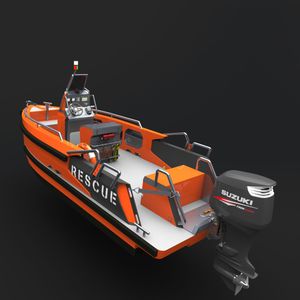 Length: 6.5 m
Passenger capacity: 6 unit
The most reliable and effective boat platform systems and solutions to allow coast guard rescue and police to accomplish their mission
See the other products
SEAX BOATS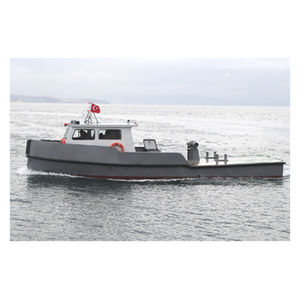 Length: 11.7 m
Morrong Boat 0136 designed to help ship asist during berthing ships in the harbour. Asist operation with maximum speed of 14 knots and 5 tons hydraulic winch. Vessel is able to anchor handle and lina handle during the ...
See the other products
Arya Shipyard
Length: 13 m
CLASSIFICATION : 13M CREW BOAT Length OA : 13.00 m Beam OA : 3.70 m Depth at sides: 2.00 m Draught Aft : 0.80 m Displacement : 8.00 tons Speed : 32 Knots Main Engines : 1x Cummins QSM 11 Total Power : 485kW (660hp) at 2300 rpm
See the other products
Loyd Shipyard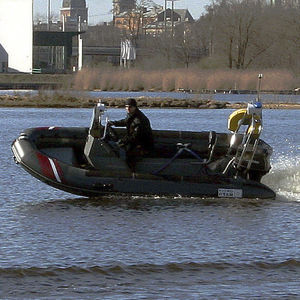 Length: 4.5 m
Passenger capacity: 9 unit
Specification: Length - 4,50m Width – 2,00m Weight - 205kg Tube diameter - 0,49m Design category - C Max engine power - 50Hp Max persons - 9 Max load - 950kg Tube chambers - 4 Engine shaft ...
Length: 24.25 m
Passenger capacity: 8 unit
... has received six 24m vessels equipped with a mortar on aft deck. The vessels are built in co-operation between Swede Ship Marine who built the first and Abu Dhabi Ship Building that builds the series. The combat station ...
See the other products
Swede Ship Marine AB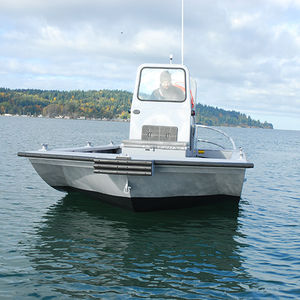 utility boat
CATHEDRAL 20'
Length: 6.1 m
... stable and versatile work platform. This series is known for its ability to plane easily and quickly as well as its stability at rest. The cathedral hull configuration results in a broad bow which provides the maximum ...
See the other products
Workskiff Inc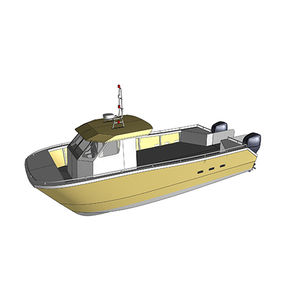 water taxi
RIDER CS31 - CASEYEUR
Length: 9.55 m
Passenger capacity: 12 unit
... capacity : Up to 8265 Lbs Catégory (leisure) : B Catégory (commercial) : 3rd Deck Plans ( Commercial ) Fishing ( Handliner / Longline / Net / Pot ) Taxi Boat – Up to 12 passengers
Length: 11.65 m
Passenger capacity: 4 unit
Raidco Marine offers a comprehensive range of Patrol Boats for State action at sea. They integrate the double-chine deep-V hull design principle and are capable of reaching high chase speeds. These ...
See the other products
Raidco Marine
Length: 24.4 m
Year: 2011 - Shipowner: Rimorchiatori Riuniti - Country: Italy LOA: 24,40 m - Beam: 11,25 m
See the other products
Armon Shipyards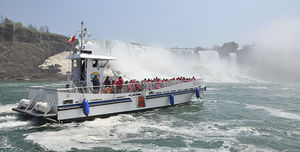 excursion boat
Niagara Falls
Length: 68'00"
Passenger capacity: 145 unit
... Hornblower's two other Niagara tour boats, if needed. A rescue platform was also integrated on the starboard side for man-overboard recovery. The rescue vessel is powered by pair of 700-hp Scania DI13 engines with ZF ...
See the other products
All American Marine
Length: 16.15 m
Passenger capacity: 29 unit
See the other products
Blount Boats, inc.
sightseeing boat
Canyon Voyager
Length: 18.29 m
Passenger capacity: 103 unit
The "Canyon Voyager" was specifically designed for the Missouri River waters near Helena, Montana and the viewing opportunities in the area.
See the other products
Bentz Boats
Length: 7.92 m
Vigor Kvichak utility skiffs range from 16' - 26' in length. Our skiffs are working everyday for a number of groups, including the U.S. Navy, State Fisheries Departments, and Oil Spill Co-ops. With many options to choose ...
See the other products
Kvichak Marine Industries, Inc.
pilot boat
Charleston Class
Length: 75'00"
... Hunt Associates led to the first deep-V pilot boat hull, which cut commuting times in half and permitted safe boarding at higher speeds. Now the industry standard, Gladding-Hearn's all-aluminum pilot boats ...
See the other products
Gladding-Hearn Shipbuilding, Duclos Corporation
Length: 8.6 m
Passenger capacity: 20, 15 unit
... study of specific environmental constraints and research performance, Patrol Limited edition was developed for professionals who want a boat to all events, tailored precisely to their requirements and ...
See the other products
3D MARINE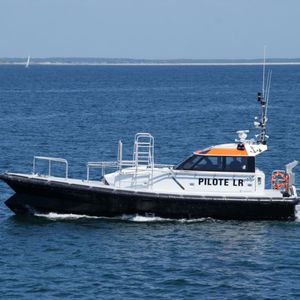 Length: 14.43 m
Passenger capacity: 5 unit
Pilot boatORC 136 All-weather pilotage launch . Unsinkable . Self-righting . Station: Port of La Rochelle (France) . Name: Armeria 014 Specifications . Overall length: 14.43 m . Hull length: 13.60m . Waterline length: 13.08 m . Overall ...
See the other products
Bernard Shipyard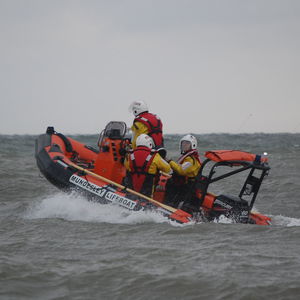 utility boat
RIBCRAFT 4.8
Length: 4.8 m
Passenger capacity: 6 unit
... harbour patrol boat through to a sailing club support boat used for rough water rescue craft. The Ribcraft 4.8 range is used for many different applications all over the world including water-sports centres, ...
See the other products
RIBCRAFT