The Online Boating and Maritime Exhibition
fishing trawler
BARA BREIZH
Length: 24.95 m
Passenger capacity: 5 unit
Trawler, 25m long, for Armement Bigouden, a fishing company in Guilvinec
See the other products
Chantier Naval Gléhen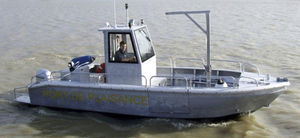 Length: 7.5 m
... multi-purpose" WORK BOAT The shipyard "Squalt marine international" builds this type of "multi-purpose" all-aluminum boat, capable of carrying out assistance, surveillance, towing and ...
hydrographic survey boat
FAST SURVEY BOAT 7.50
Length: 7.85 m
Passenger capacity: 3 unit
... Fast Survey Boat 7.50 is a real survey-machine. With its survey speed (up to 30 km/h) you can cover the same area in half the time. With its trailerability it is easy to reach any location by road. Great geografical ...
See the other products
DutchWorkBoats BV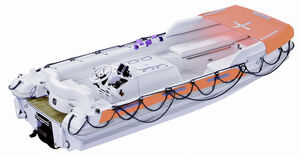 rescue boat
JET TENDER 14 RB
Length: 4.25 m
Passenger capacity: 6 unit
... System: Sandwich structure, hand laid Kevlar and vinylester fire retardant resin with polyurethane closed cell foam core Inflatable tubes: Hypalon/Neoprene coated polyester fabric 1100 Dtex with No. 5+1 (B.I.S.S.) separate ...
See the other products
Castoldi
Length: 23.99 m
Littoral and Coastal WatersLaw-Enforcement, Open Sea Rescue Operations and Naval Duties: - Coast Guard Duties, Littoral Patrolling and Escort, - Search and Rescue, Anti-smuggling Operations, - Anti-Terrorist Protection of Offshore and ...
See the other products
ARES Shipyard
sightseeing boat
HITEK 85 TAXI
Length: 8.58 m
Passenger capacity: 12 unit
Specifications: Overall length 8,58 m Extreme breadth 2,65 m Transom deadrise 21° Transom height 635 mm Weight without engine and fuel 1150 kg Load capacity 1650 kg Compartments 7 Maximum engine power 225 kilowatt (300 h.p.) People on ...
See the other products
EK Marine
wind farm service boat
WINDCREWSURFER 1800
Length: 18.2 m
Passenger capacity: 12 unit
... technology has been used for 20 years on many of our vessels and reduces noise and vibration significantly. Boatlanding A safe boat~landing area secures accesses to wind turbines. Large fenders protect the bow of the ...
See the other products
Chantiers Allais
Length: 23 m
Passenger capacity: 95 unit
... Main Engines : 2 x Caterpillar C18 Installed Power : 2 x 533 bkW Propulsion : 2 x Fixed Pitch Prop Construction Material : Marine Grade Aluminium Flag : NZ MSA / MAST 1C
See the other products
Incat Crowther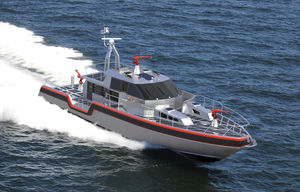 Length: 75'00"
LOA: 75' BOA: 21' For detailed specifications, contact us today. The Metal Shark 75 Defiant is a welded aluminum pilothouse vessel designed for use in law enforcement, tactical fire fighting, pilot operations, or other missions where ...
See the other products
Metal Shark Aluminum Boats
patrol boat
HIKE30 Series
Length: 38'00", 30'00"
... Features: Hull lengths start at 30ft and grow incrementally to 38ft with the same beam and hull-form. ( Larger patrol boats share the same very successful hull form but increase in beam) Vessel is of relatively ...
See the other products
Hike Metal Products
passenger boat
Shuttle Frappa Marina"
Length: 9 m
Passenger capacity: 12 unit
... Type : Passenger boat Construction : ODC Marine - Aluminium Features : 9.00 m x 3.50 m This boat can transport 12 pax in very confortable conditions with pullman seat and bar 2 outboard ...
See the other products
BOAT TRIP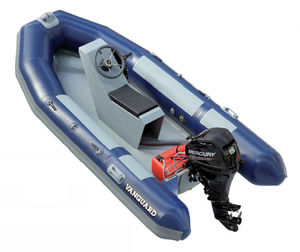 Length: 3, 3.4 m
Passenger capacity: 5, 4 unit
Strong, robust, high-capacity professional tender boats whose large diameter tubes provide excellent stability. For service and tender use for large professional vessels with reduced ...
See the other products
Vanguard International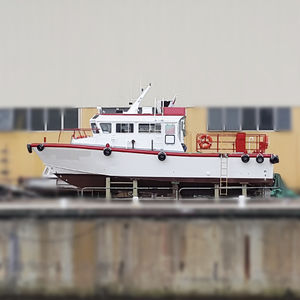 Length: 12.6 m
Passenger capacity: 12 unit
12.6M x 12 Pax Crew Boat Length O.A.:12.60 metres Breadth:3.80 metres Depth:1.90 metres Speed:22 knots Main Engines:2 X 320bhp at 2330rpm Generator:1 units X 10 kw This aluminium hull crewboat / workboat is ...
See the other products
Dundee Marine & Industrial Services Pte Ltd
Length: 5.5 m
Passenger capacity: 6 unit
That the Tinn-Silver 550 a winner is, speaks for itself, for the Dutch Rescue boat foundation, German DLRG, as a police boat or fishing boat. Since 2014 also approved as a lifeboat for ...
See the other products
Tinn-Silver
Length: 8 m
Passenger capacity: 7 unit
... shipyard to your destination country at very low cost. Ask us now about this economical alternative for plate fishing boats and patrol boats. Dealer discounts avaialble.
See the other products
Gold Coast Ships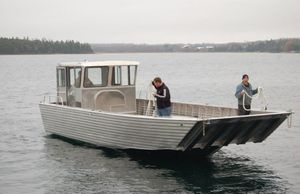 Length: 6.09 m
Whether fishing, transporting material, marine research or cruising, with a single or twin-engine application, we'll build the quality aluminum boat that you have always wanted. Henley Landing Craft lengths ...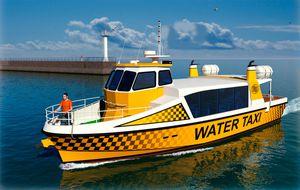 Length: 16.77 m
Passenger capacity: 62 unit
Motor Line 16 P passenger boat was designed to provide passengertransportation by sea and river, it can be successfully used either for regular ferry routes or fro pleasure cruises or for other kind water activities ( ...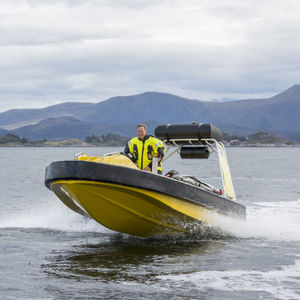 Length: 5.5 m
Passenger capacity: 6 unit
The RB 550 is a single outboard engine runned rescue boat produced in GRP (Glas Reinforced Plastic) and has a flexible area of usage. The RB-series is also a very popular small-size rescue boat that suits ...
See the other products
Mare Safety AS
Length: 12.6 m
Passenger capacity: 22 unit
MetalCraft Marine's Interceptor Rib series is an extremely rugged, high speed line of aluminum RIBS designed for the most severe marine environments. Each RIB is built to stringent military ...
See the other products
Metalcraft Marine Inc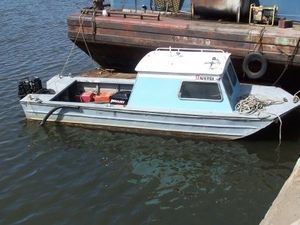 Length: 7.01 m
DIMENSIONS Length Overall: 23.0 ft. / 7.01 m CONSTRUCTION All Aluminum PROPULSION & STEERING Main Engines: Gas Outboard REGISTRATION Flag: USA Year Built: 1976 Official Number: NJ1601GH
See the other products
Donjon Marine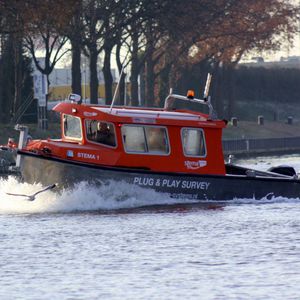 Length: 7.25 m
Passenger capacity: 4 unit
... crew. It saves a lot of time and money for her (end) users. Commercial & Operational deployment This boat can be quickly deployed in various areas. Its light-weight aluminum body makes the boat ...
Length: 14.6 m
Passenger capacity: 7 unit
... ambulance are designed for rescue operations as well. Ambulance boats can be customized in hull shape, engine, drive & lifesaving facilities as to suit the needs in marine and inland conditions. Hull, ...
Length: 5.5 m - 11.5 m
Versatech Sea Lander boats with their large flat work deck and front ramp are perfect boats for oil spill response activities. The features and benefits include; Welded aluminum ...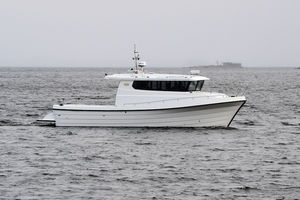 Length: 13 m
Passenger capacity: max 21.0 unit
... Kulkuri 40 Hummeri is a long-awaited addition to our product range. The design of the boat takes into account modern requirements, yet respects the traditions. Professionals appreciate its seaworthiness ...
See the other products
Kulkuri-Veneet Oy
patrol boat
8.5M GUARDIAN
Length: 8.5 m
Passenger capacity: 6 unit
... forefront of operations along coastlines. The 8.5m is a patrol and Interception Vessel - Aluminium Hull - 1 x Marine Diesel VGT450 336 kW - DOEN DJ 110 Waterjet - 42 knots @ Max The Guardian ...
See the other products
Nautic Africa