How to choose this product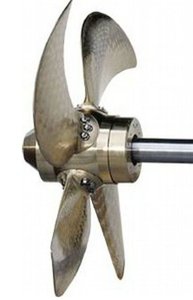 A variable pitch propeller resembles an ordinary propeller. However, the inclination of its blades can be altered to change its angle of attack with respect to the water.
Applications
These propellers optimize performance under different load conditions. For this reason, they are often used on tugboats.
Technologies
Such propellers operate as do others, by creating a pressure difference between the forward and aft blade surfaces. However, an internal mechanism allows the angle of the blades to change while the vessel is underway. In some, the pitch can be inverted, allowing the vessel to move backward without changing the rotational direction of the engine.
How to choose
Propeller size will depend on vessel size and engine power. Another factor is the operation of the servomotor controlling blade pitch. The propeller's constituent material also should be considered. Variable pitch propellers often are custom-built. Manufacturers have software and special equipment to aid selection.
Advantages
- Flexibility
- Optimum performance
- Efficiency
Disadvantages
- High cost