How to choose this product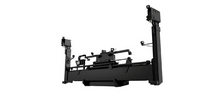 A telescopic spreader is a piece of equipment capable of adapting the length of its arms in order to lift containers of different sizes by their corners.
Applications
The telescopic spreader permits the securing of different sized containers in order to lift, lower or move them in a port terminal, either with a container gantry crane, a simple crane, a lift truck or a straddle carrier.
Technologies
The telescopic spreader arms can be extended and retracted to match different container dimensions, including standard 40-footers, TEUs and non-standard sizes. The telescopic spreader is controlled from the operator's cab.
How to choose
In order to make a choice among the different telescopic spreaders several factors must be taken into account: weight, telescopic motion, consumption, arm speed and torque.
Advantages
- Handle a variety of container sizes
Disadvantages
- Maintenance required