How to choose this product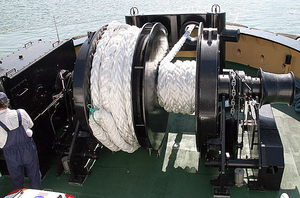 A towing winch is a rotating device, generally with a horizontal shaft, used to handle tow lines and cables. NauticExpo offers electric, hydraulic, single-drum, double-drum and other models.
Applications
These devices are found primarily on tugboats. They usually are located on the stern or forecastle in an area free of obstacles.
Technologies
Such winches are powered by electricity, hydraulics, steam or internal combustion engines. The drum turns to take up or pay out line.
How to choose
Choice will depend on the length and diameter of line to be handled and the winch's load capacity.