Inflatable boats
158 companies | 2214 products
How to choose this product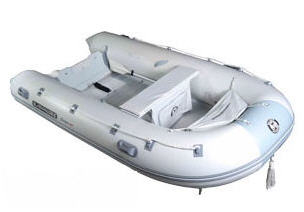 An inflatable boat can be anything from a small tender to a luxurious rigid inflatable with a cabin. The two main categories are the rigid and the pure inflatables, though the latter may have rigid floorboards.
Applications
These craft are light and seaworthy. Equipment options are numerous, depending on size, and the inflatable pontoons are made of increasingly sturdy materials. These factors make inflatables multipurpose boats for recreational or professional use.
Technologies
Such boats consist of inflatable buoyancy pontoons, compartmentalized for greater security in case of puncture or leak, and a soft or rigid floor, depending on model. Small versions use outboard motors, while larger rigid inflatables may have inboard engines, including the waterjet type.
How to choose
Choice will depend on load capacity, intended use and budget. Inflatables can carry more weight than rigid hulls of the same size. Models, features and manufacturers abound.
Advantages
- Large load capacity
- Excellent stability
- Light and trailerable
- Many motor options per model
Disadvantages
- Subject to drift
- Pontoons weakened by UV and abrasion