The Online Boating and Maritime Exhibition
outboard inflatable boat
50
Length: 5.06 m
Asso 50 has been designed for medium range navigation and is a truly multipurpose boat. The hull absorbs very little power and offers excellent efficiency for a quick and easy planing, even at low speed, as well as ...
See the other products
Asso-Prestige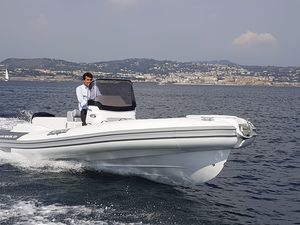 outboard inflatable boat
GRAN SOLEIL 23
Length: 7.15 m
LOA Length Overall 7,15 mtMaximum width 2,79 mtFull load weight 1050 KgFuel capacity 205 ltEngines 250 HpMax people 14 Category B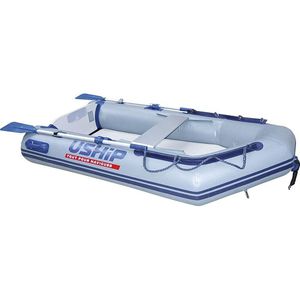 outboard inflatable boat
13000
Length: 2.3, 2.5 m
outboard inflatable boat
Five 530
Length: 5.3 m
... Beam hull (m) 1,81 Draught (hull) (m) 0,3 Height (m) 1,71 Deadrise (degrees) 21 Weight (standard boat) 500 Power (hp) 50 – 90 hp Capacity 1 – 6 Hull & superstructure material GRV ...
outboard inflatable boat
r-evolution x36
Length: 10.73 m
... represents the best choice for those who, apart from luxury and comfort, are in search for powerful performances. ​ Sport boat with an elegant design, huge but refined, powerful and still extremely comfortable: ...
See the other products
Mar.co
inboard inflatable boat
TT Blind Date
Length: 8 m
... removable bow section to facilitate stowing in a confined area. The interior layout has been optimized as an owner's sports RIB to give a comfortable high speed driving position. Features include a ski/towing bollard, ...
See the other products
Compass Tenders 
inboard inflatable boat
Seakart 335
Length: 3.5 m
Homologated as a Category C Boat, the Seakart 335 is a unique hybrid combining the speed and excitement of a jet ski with the safety and comfort of an inflatable boat. ...
outboard inflatable boat
SPIRIT S450
Length: 4.42 m
RIB type boat Spirit S450 with a rigid aluminum hull and an inflatable tubes, is perfect for fishing, hunting and just relaxing on the water.
See the other products
AQUASPIRIT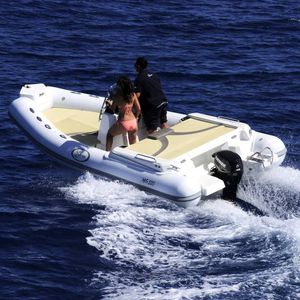 outboard inflatable boat
MG 520
Length: 5.2 m
The start up of our range of inflatable boats. It's a 'small' who think as a big, because repeats of smaller all the advantages of our other models, starting from layout. On this model the tubes are made ...
See the other products
SAVER S.R.L.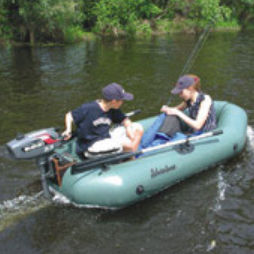 outboard inflatable boat
Scout Series
Length: 2.5 m
Scout – for days of carefree fishing! The Scout series of inflatable rowing boats represent the finest way to spend time on the water fishing, away from the humdrum of urban cares and worries. Light in ...
See the other products
Adventure Inflatable boats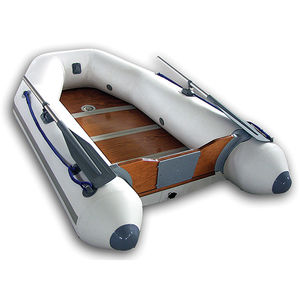 outboard inflatable boat
Hurry Series
Length: 1.85 m - 4 m
Roll-up tenders with wooden fl Safety and tradition are the characteristics of this elegant and manageable tender, with an exclusive line studied for the who has stowage problems but he/she doesn't want to abdicate certain performances.
See the other products
Almar S.r.l.
outboard inflatable boat
WD330
Length: 3.3 m
8 models with length from 2.3m to 4.7m for outboards up to 22kw/30HP and offered with 4 types of flooring: Plywood , Aluminum , Airmat and VIB . Standard equipment *Two pieces of aluminum oars *Marine grade plywood flooy *Foot pump *Repairing ...
See the other products
king-products
outboard inflatable boat
450
Length: 4.5 m
Falcon 450 rigid inflatable boat – An easy to own, compact package, offering great efficiency whilst requiring very little power requirement. The 450 also offers extreme versatility and exceptional stability. The commercial ...
See the other products
Falcon Inflatables
outboard inflatable boat
Phoenix 660/660(H)
Length: 6.6 m
... available. FEATURES Float: Available in Ice White only Design: Silver Marine has drawn on the talent of the renowned New Zealand designer, Richard Rayne, to design these boats to meet the most ...
See the other products
Silver marine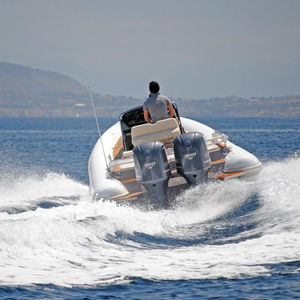 outboard inflatable boat
M-GT
Length: 9 m
... the steering bench. The by now distinctive trademark of magazzù boats, the classic large platform to access the water, is located at stern. The cabin houses a double berth, sink and marine WC. The entire ...
See the other products
Cantieri Magazzù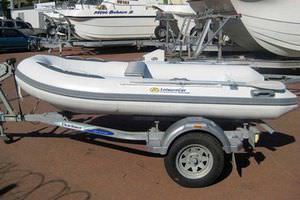 Length: 2.4 m - 6 m
LeisureCat Australia is proud to present its own range of inflatables . . . Made using 3mm thick alloy hulls with Hypalon tube, they are supplied with oars, seat, repair kit and pump as standard. Options include centre ...
inboard inflatable boat
MAGNA 35C LIGHTNING
Length: 10.8 m
TECHNICAL SPECIFICATIONS Length Overall with platform: 10.80 m Length Overall without platform: 9.90 m Beam max.: 3.28 m Draft: 0.65 m STANDARD EQUIPMENT Cockpit - Deck - Engine Room Twin Diesel Engines MTU 2 X 320 HP Konrad Stern Drive ...
See the other products
Motomarine 
hydro-jet inflatable boat
Aqua 9
Length: 290 cm
The Aqua 9 was designed to equip even the most space restricted yacht with a sporty yet capable jet tender. Weight restrictions are not a problem for this tender as we give you the option of several different horsepower engines to empower ...
See the other products
Aquascan Inc
outboard inflatable boat
Leiftur 1100
Length: 11 m
... capabilities. During the final development phase, the Icelandic Coast Guard sailed a prototype of the craft some 3,000 nautical miles around Iceland. The specially designed and crafted ÖK Hull cleanly cuts through ...
See the other products
Rafnar ehf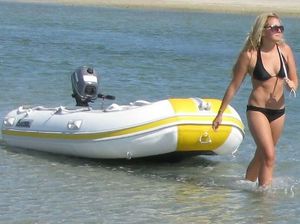 outboard inflatable boat
YM200
Length: 2 m
Length: 2.00m Beam: 1.33m Tube Diam: 36cm Weight: 23kgs Capacity: 300kgs Max Pax: 3 Max HP: 3.5HP Short shaft Includes: Oars, seat, pump repair kit and carry bag Features: Y-shaped air floor, easy to assemble and ultra light
See the other products
Aakron Xpress Ltd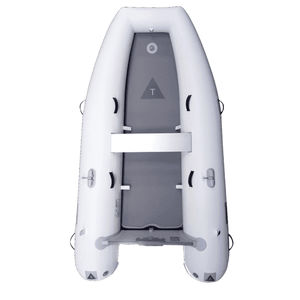 Length: 3 m
TWO cat tenders with the latest European styling at factory direct prices. Large diameter tubes and beam provide incredible stability, while the tapered bow & catamaran hull design provides excellent performance and efficiency. Specifications. T ...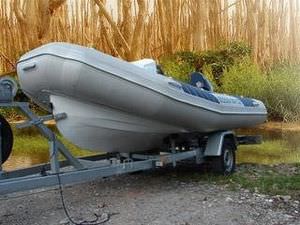 outboard inflatable boat
Marlin - 480
Length: 4.8 m
... driving. RIB Marlin - 480 boat is a basic version with length 480 cm and width 200 cm. There is a possibility to add some parts of outfit to the boat. Tapestried JET seat for ...
See the other products
RIKU-Küffer
outboard inflatable boat
ADVENTURE 25
Length: 7.5 m
... characteristics found on our professional boats. All rigid inflatable boats (Ribs) in the Adventure series have deep V offshore hulls, offering the same soft, stable and secure ride ...
See the other products
C-RIB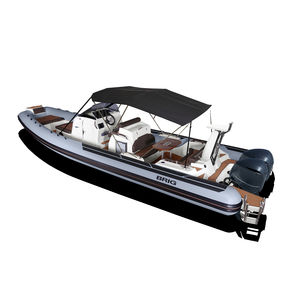 outboard inflatable boat
EAGLE 10
Length: 9.95 m
EAGLE 10 is a long awaited new BRIG flagship. Its dimentions provide you with a lot of choises. Versatility is the word that comes to mind instantly. She is stable enough to be your day cruiser for the whole family or a company of friends ...
See the other products
Brig U.S.A. LLC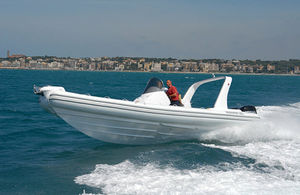 outboard inflatable boat
28 OPEN FB
Length: 9.5 m
STANDARD EQUIPMENTS Fuel tank 440 I. * Water tank 100 I. * External shower * Sunbathing cushion * Washbasin * Table * Hydraulic steering * Roll bar * Bracket
See the other products
Heaven Gommoni