How to choose this product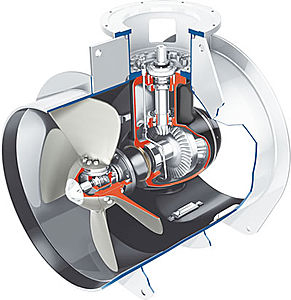 A bow thruster is a motor and propeller mounted transversally at a vessel's bow to increase lateral maneuverability.
Applications
This device is used in conjunction with the main engine for port maneuvers or to counter a crosswind or current. NauticExpo offers thrusters for leisure craft as well as for ships.
Technologies
The bow thruster works in the same manner as any propeller. A motor turns the blades, creating thrust as the result of the pressure differential between the blade surfaces. Some thrusters are mounted in a tunnel traversing the hull. Others descend hydraulically from the bottom of the vessel when needed. In the retracted position, such units sit flush within the hull, creating no turbulence.

Since thruster power and type vary widely, there are models suitable for boats and ships of any size. Certain tunnel versions have two counter-rotating propellers. The motor is either electric or hydraulic.
How to choose
Minimum power requirements will depend on the size and displacement of the vessel. The largest ships sometimes have two or even three thrusters to increase effectiveness. Retractable models eliminate the turbulence problems of tunnel versions.
Advantages
- Maneuverability
Disadvantages
- Significant energy consumption