How to choose this product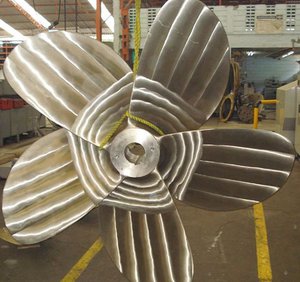 A ships propeller is the most common means of propulsion for ships. It consists of several blades, resembling those of a fan, mounted on the end of a drive shaft. Propellers differ in their materials, including bronze and aluminum, and their functional details. They can be fixed or variable pitch, surface-piercing propeller or another configuration.
Applications
The propeller transforms the engine's rotary power into thrust with each revolution it makes.
Technologies
Boat propellers work in the same way as airplane wings. Each blade is shaped like an airfoil. Rotation creates a pressure differential between the forward and aft surfaces due to blade profile and angle of attack. This difference results in thrust.
How to choose
Propeller size must be adapted to vessel size and engine power, since undersized blades cannot handle all the engine's power. Constituent material is also a factor. Ship propellers often are custom-built. Manufacturers have software and special equipment to aid in selection.