How to choose this product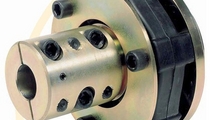 A shaft coupling is the mechanical part that connects the engine to the shaft holding the propeller.
Applications
These devices are necessary on all motors driving a propeller shaft.
Technologies
The coupling connects the small engine flywheel to the shaft itself, usually held by jaws. Some models have rubber parts that reduce alignment problems by allowing angular variation between the shaft and the gearbox. They also decrease vibrations transmitted to the craft, increasing comfort aboard. Most are made of stainless steel, cast iron, or aluminum.
How to choose
Shaft couplings must be compatible with the transmission, which varies with engine make and model, and with the shaft, including its diameter. Flexible versions facilitate changing engines.