How to choose this product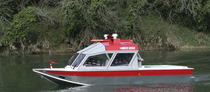 The many types of rescue boat vary by design, range and tasks to be carried out. Inflatables, runabouts, air boats, launches and other craft are all used in this capacity.
Applications
Rapid and reliable, these vessels are configured and equipped to effectuate rescues in all weather and sea conditions without endangering their own crews.
Technologies
Rigid inflatables can be launched quickly and can ride up on the sand. They are used primarily for beach and coastal surveillance. Offshore search-and-rescue launches have engines powerful enough for towing other vessels. They are also equipped with lifesaving medical gear and appropriate electronics such as AIS and radar.