How to choose this product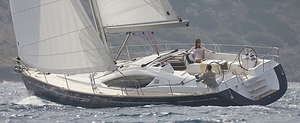 A deck saloon sailboat has a sheltered area between exterior cockpit and interior main cabin which offers comfort and a good view of the surroundings.
Applications
These vessels often are designed for blue-water sailing and ocean passages. Watch-keeping is more relaxing when comfortably ensconced in the deck saloon, the autopilot engaged and the only task at hand is the observation of the surrounding sea. It is also the ideal spot for breakfast underway with a sea view.
Technologies
An integral part of the vessel between the cockpit and the cabin, below, the deck saloon must be part of the designer's plans. It often has an elevated roof for sufficient headroom, with portholes all around for panoramic views. This constitutes a sort of raised pilothouse.
Advantages
- Panoramic views
- Ideal spot between cockpit and cabins
Disadvantages
- Additional top hamper
- Reduces sleekness