How to choose this product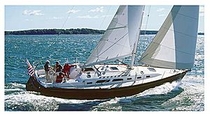 A cruising sail is sturdy, durable and suitable for all-around use. Headsails include genoas, spinnakers and gennakers. There are also cruising foresails, mizzen sails and mainsails.
Applications
Cruising sails are intended for recreational day-sailing, coasting or passage making. They are found on boats of all sizes, both privately owned and rental craft.
Technologies
Polyester (Dacron®) is often used because of its excellent quality-to-price characteristics. Since these sails often remain set for days at a time, anti-UV treatment will increase useful life. Cruising sails are often used with roller-furling gear, not only headsails, but also mainsails, with boom or mast furling systems. This facilitates rapid shortening of sail with a small crew.

While this configuration is practical and multipurpose, sailing performance suffers compared to sails set with hanks, slides or a bolt rope in a hollow stay. Partial or full battens offer increased power.
How to choose
A cruising sail is not inferior gear. Sail cut and material should be chosen as a function of boat characteristics and intended use. Careful selection will maximize vessel performance and reduce the number of sails needed for safe, enjoyable cruising. Choice will depend on rigging dimensions or boat model, in the case of production craft.
Advantages
- Durability
- All-around capabilities
Disadvantages
- Reduced performance