How to choose this product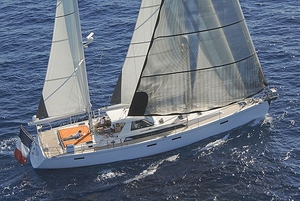 A center cockpit sailboat is a vessel whose cockpit is situated near midships rather than the more traditional stern location.
Applications
This configuration is typically used for blue-water sailboats since it significantly enhances crew safety.
Technologies
Generally, the stern of such vessels has a cabin, lazarette or access to steering gear instead of the usual cockpit. As with other sailboats, these craft can be built of polyester or epoxy laminates, sandwich material, aluminum, steel or wood.
How to choose
Crew size and intended use will determine the number of cabins, from two to four, or more. A split rig can reduce physical effort during maneuvers. Examples include a ketch, with main and mizzen sails, or a schooner, with main and foresail. Standard equipment varies with manufacturer.
Advantages
- Added safety
- Easy access to the saloon
- Distinct forward-aft separation
- Panoramic, often elevated view
Disadvantages
- No direct water access from cockpit
- Smaller cockpit