How to choose this product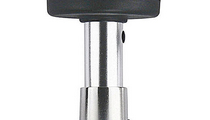 An anchor light is a powerful white light with 360° visibility signaling a small boat or a ship at anchor.
Applications
National regulations indicate the minimum length of vessels which must display an anchor light.
Technologies
The light must be powerful, its minimum range depending on vessel size. It is mounted at the masthead of a sailboat or the highest suitable point on a power boat (e.g., coach roof, rollbar, etc.). Small craft often carry combination anchor/navigation lights. Bulbs can be incandescent, halogen or LED.
How to choose
Choice will depend on type and size of boat. LED lights are more expensive, but last longer than other types. They also consume less energy, an important consideration for a light which must remain on all night. If local regulations permit, a fixture combining anchor and navigation lights sharing a common ground represents a good choice since it simplifies wiring.