The Online Boating and Maritime Exhibition
cruising motor yacht
Brightly 1530
Length: 15.3 m
... beautifully juxtaposed by the contemporary and athletic look of the wrap-around windows and elongated foredeck. The Serious Yachts Brightly 1530 was built using steel. Thanks to its soft chine hull, this ship's sailing ...
catamaran mega-yacht
SVX 223' - 68M
Length: 68 m
... is possible to sail on a motor yacht while being in adequacy with the respect of nature, not to be in the move but to feel good. When we designed the SV223 ', we were already in the declination of a line of motor yachts. ...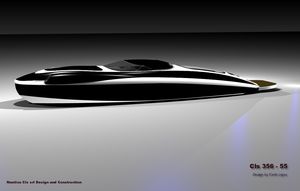 high-speed motor yacht
CLS 356-55
Length: 16.8 m
cruising motor yacht
DARIELUP
Length: 16.8 m
The Dariel UP is a design to redefine your aquatic experience, providing innovative features and excellent access for interaction with sea. Thanks to OPACMARE technology, mechanical lateral platforms have been fully built-in into the ...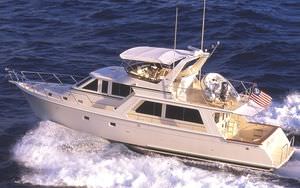 offshore motor yacht
52/54 PILOTHOUSE
Length: 57'03", 56'03"
Offshore Yachts uncompromising vision of what a yacht should be is perfectly illustrated in our 52'/54' Pilothouse models. William Crealock's design maintains all the best features of our larger yachts; ...
See the other products
Offshore Yachts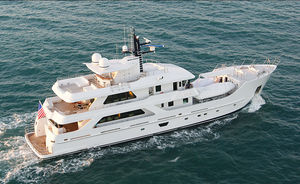 cruising super-yacht
M/Y Batai
Length: 38.4 m
MAIN CHARACTERISTICS Length overall 38,40m (126 feet) Breadth (B): 7,9m Depth (D): 3,98m Draft (T) 2,4m Speed: 10,5 knot Project Luiz De Basto Designs / INACE Type Explorer, hull in steel and superstructure in aluminum Hull 591 Customer Mexican Year 2013
See the other products
Inace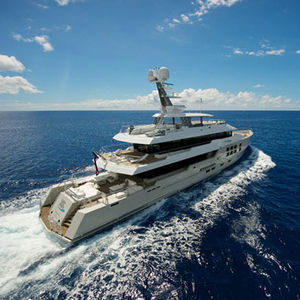 expedition luxury super-yacht
Big Fish
Length: 45 m
45m steel/aluminium luxury expedition yacht Design by Gregory C Marshall Naval Architects Richard Beattie, owner, M/Y Big Fish "If you buy a boat, you might as well use it for adventure" "I bought Big Fish specifically ...
See the other products
McMullen & Wing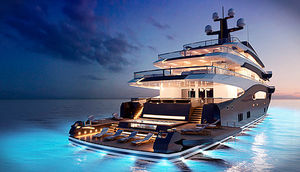 cruising mega-yacht
WARRIOR80
Length: 80 m
New Project DY006 WARRIOR80 80m under construction. Designer: Espion Oeino
See the other products
Dunya Yachts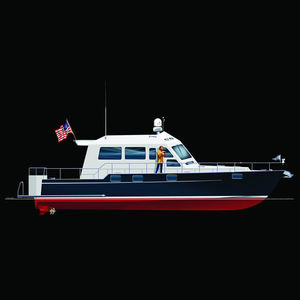 cruising motor yacht
IP535 EXPRESS
Length: 16.31 m
... who no longer feel the need for a fly bridge and prefer the more streamlined look of express yachts. With her exceptional lower helm, The IP535 is a perfect yacht to produce as an Express Version. The ...
See the other products
Island Pilot
convertible motor yacht
HEDONIST
Length: 20 m
When we finally embark on a journey of conducting our ideas into action, creating another Art of Kinetik yacht means we dare not only to reimagine the whole concept of a luxury boat, we are also ready to rethink the artistic ...
See the other products
Art of Kinetik 
cruising mega-yacht
52 M AWARENESS
Length: 51.88 m
... groundbreaking new large yacht concept by Azure Naval Architects BV of The Netherlands, its collaborator on the 281ft (85.6m) CAKEWALK project now under way at the Derecktor Connecticut shipyard. Azure's 52m (170ft) Awareness ...
See the other products
Derecktor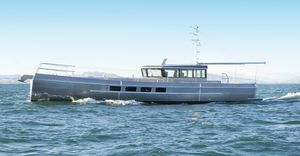 cruising motor yacht
LRC 58
Length: 17.6 m
Dickey Boats are pleased to announce the launch of the new ArtNautica LRC 58. The LRC 58 is a robust, easy to operate aluminium long range cruiser - ideal for circumnavigating the globe. • 4,500 nautical mile range • A self-righting ...
cruising motor yacht
FAVORITE 1500
Length: 15.6 m
... since 1955. The Favorite 1500 was designed and built for private use of the Mulder family. The aim was to create a beautiful yacht with recognizable lines that the whole family could enjoy. The virtually straight bow ...
See the other products
Mulder Shipyard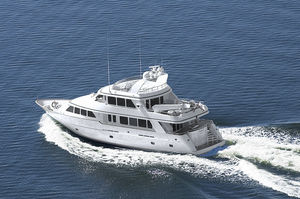 classic motor yacht
ESCAPE S
Length: 27 m
... motor yacht designed by the well-known British designer Bill Dixon. She was built in the shipyard for an American client and lunched in 2005. This triple deck yacht provides comfort and space usually ...
See the other products
CONRAD S.A.
Length: 58 m
... with an over 1000 grosston ship like this, many options and endless customization are within our range. One feature of the yacht is the lift serving four decks which is capable of taking a wheelchair or two persons. Ample ...
See the other products
SARP YACHTS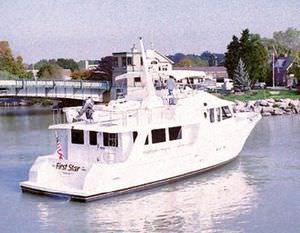 cruising motor yacht
PASSAGEMAKER 62
Length: 18.92 m
Kanter Yachts has a history of building robust power craft including constructing search-and-rescue craft for the Coast Guard. Unwavering commitment to dependability is the hallmark of a Kanter yacht. ...
See the other products
Kanter Yachts
catamaran motor yacht
BRADLEY
Length: 26 m
Catamaran yacht Architect : Vaton design / H2X Aluminum hull and composite superstructure Lenght : 26 meters Width : 10,6 meters Draught : 1,1 meter Max speed : 30 knots Range : 1000 milles at 10 knots
cruising mega-yacht
JUST J'S
Length: 61 m
... sense. The exterior and interior comes from the drawing boards of Sinot Yacht Design. Naval architecture, construction and engineering design for this project is done by Diana Yacht Design with easy ...
See the other products
Hakvoort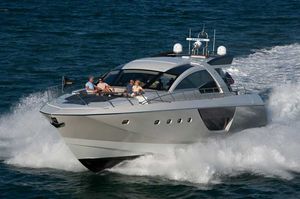 sport motor yacht
Alpha 76 Express
Length: 23.32 m
The Alpha of sport yachts... a concept that marries sea and sky for a sensational cruising experience. Born of history, pedigree, sophisticated thinking and engineering, this is a nimble yacht that lives ...
See the other products
Cheoy Lee
classic motor yacht
SEA HAWK
Length: 18 m
... Carbon Offset Design and Atlantic Motor Yachts present the Atlantic Sea Hawk, a Hi-performance Zero Carbon 18 meter Cabin Cruiser with a top speed of 50 knots. For Atlantic Motoryachts, the Altantic Sea Hawk is a yacht ...
hard-top motor yacht
CASPIAN STAR
Length: 60 m
... cabins, comprising a master suite and 2 VIP staterooms. The yacht is also capable to carry up to 10 crewmembers onboard in 6 cabins to make sure a relaxed luxury yacht experience. The yacht ...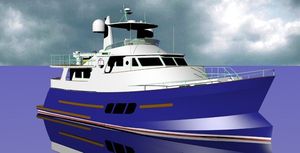 high-speed motor yacht
P57.7
Length: 17.6 m
After his fantastic crossing of the Atlantic with his small trawler of 6,50m, the naval architect Yves Kinard from Mayrik Yacht Design signs a new drawing, that of a "Trawler Express" of 17,60m (57,7 feet). Trawler because ...
cruising luxury mega-yacht
Vicky
Length: 72.64 m
» Year built: 2012 » Length: 72.6m » Exterior design: H2 Yacht Design » Interior design: H2 Yacht Design » Naval architecture: Hydro Tec S.r.l. Launched in 2012, the 72.6 m superyacht Vicky is a spectacular ...
See the other products
Proteksan-Turquoise
Length: 16.4 m
The Palm Beach 50 is seen by many as the quintessential PB Motor Yacht with its sweeping sheer line and sporty, timeless style. Since its first launch in 2001, over 22 PB 50s have been built (as at 2012) and they remain ...
See the other products
Palm Beach 
classic motor yacht
53 MY
Length: 16.92 m
LENGTH OVERALL = 55' – 6" LENGTH ON DECK = 52' – 3" LENGTH AT WATERLINE = 49' – 5" BEAM = 16' – 0" DRAFT = 4' – 4" DISPLACEMENT = 56000 lbs. Full Load MAXIMUM HEIGHT ABOVE WATER = TBA approx. 18' 0" MINIMUM HEIGHT ABOVE WATER = TBA approx. ...