The Online Boating and Maritime Exhibition
river navigation motor yacht
60 DECKSALON
Length: 18 m
Lengte over all:18.00 m Beam:5.20 m Draft:1.45 m Creep height:ca. 4.00 m Engine:2 x 210 HP/155 kW Vetus VD6.210 CE-classifictation:A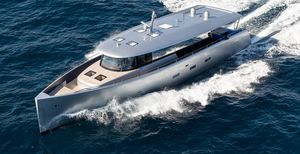 cruising motor yacht
M78 BILL AND ME
Length: 23.9 m
... this, linked with the light, stiff hull and deck shell manufactured by Baltic Yachts should result in an outstanding yacht. Bill and Me's narrow beam is fundamental to the yacht's ...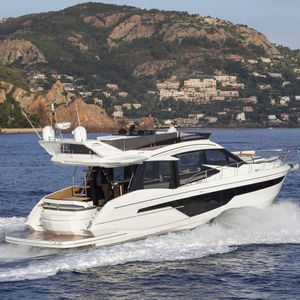 cruising motor yacht
500 FLY
Length: 16.2 m
Highly customizable, with three distinct aft configurations to choose from, the 500 Fly offers flexibility with cockpit arrangements. Choose between a full-sized garage with a sundeck on top, a classic L-shaped sofa and crew cabin setup ...
See the other products
Galeon
cruising motor yacht
DarielUP
Length: 16.8 m
L.O.A.16.80 M BEAM5.20 M FUEL CAPACITY3000 L WEIGHT17000 Kg PASSENGERS20+1 crew ENGINE (MAX POWER) 2 x 1200 HP TRANSMISSIONKamewa Rolls-Royce Jet Drive / IPS Drive / Surface Drive MAX SPEED 50 Kn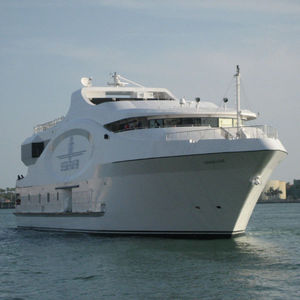 cruising luxury mega-yacht
S-148 M/V GRAND LUXE
Length: 69.49 m
The Grand Luxe is an art gallery vessel, much like a museum on a ship. The vessel was built by NBBB is 2006 and operates in the state of Florida.
cruising mega-yacht
Aurora
Length: 49 m
... planing 49 meters aluminum yacht characterized by innovative architectural solutions and large spaces usually expected on a displacement yachts.The designer Fulvio De Simoni, at his first cooperation ...
See the other products
Rossinavi
cruising mega-yacht
ILONKA
Length: 45.6 m
Built in 1999, the 45m displacement cruising yacht Ilona was a significant custom build for Pendennis at the time, being the first luxury motor yacht to be built at the yard. The vessel was designed by ...
cruising motor yacht
Velsheda 50'
Length: 16.65 m
... Nicholsons Yachts is synonymous with the world of yachting. Since yacht and boat building commenced at Camper & Nicholsons back in 1782, some of the finest and most famous yachts in the ...
See the other products
Camper & Nicholsons Yachting
cruising super-yacht
M/Y SAGE
Length: 39.7 m
Admiral Impero M/Y SAGE is characterized by modern masculine sharp-cornered contours and generous volumes both externally and internally.The exterior design has been cured by Luca Dini Design. Thanks to a construction completely in aluminum, ...
See the other products
Admiral yachts
cruising motor yacht
CANADOS 808 MAXIMUS
Length: 24.6 m
... meter tender. The 808 offers a unique layout making her the only true luxury yacht that size. The wide central boarding gangway will give you the impression of a much larger yacht from your first step ...
See the other products
Oceanic Yachts
cruising motor yacht
MCY 65
Length: 19.82 m
Main dimensionsOverall length (LOA) 19.82 m - 65 ftMaximum beam 5.25 m - 17 ft 1 inDraft 1.55 m - 5 ft 1 inDisplacement 35 t DryEngines2 x MAN V8 10002 x MAN V8 1200SpeedMaximum speed 30 kn (MAN V8 1000) | 31 kn (MAN V8 1200)Cruise speed ...
See the other products
MONTE CARLO YACHTS S.P.A.
Length: 72'01"
... with increased hospitality. For many owners, the pilothouse is not only the navigation and systems control center of their yacht but a social center as well. With an expanded U-shaped pilothouse settee, larger table and ...
high-performance motor yacht
58
Length: 17.7 m
AB 58 is dedicated to people who love strong emotions: breath-taking turns, incredible acceleration and navigation in shallow water without sacrificing safety are the points of strength of this purebred. The interior furnishings are completely ...
See the other products
AB Yachts
expedition super-yacht
ANDREA
Length: 38.4 m
... to the usual regulation stability standards, ANDREA meets the "international severe wind and roll criterion," something few yachts can do. Significant beam and ballast as well as engineering by the Delta Design Group ...
See the other products
Delta Marine
high-speed motor yacht
50.5
Length: 16.25 m
Salpa 50.5 Technological innovation applied in the construction of Salpa 50.5 consists in using the "infusion" (infusion vacuum) technology not only for the hull but also for all the structural components. The result of using this technology ...
Length: 23.2 m
... The most highly advanced technology is used in every detail on this magnificent yacht. The BLADE compromises high speed with ultra luxury accessories. This tempting yacht got comfortable accommodation ...
See the other products
Kaiserwerft
Length: 16.5 m
Designed by Arch. Gian Marco Campanino | GMC Architecture, this sporty yacht can reach the incredible top speed of 40 knots thanks to the VOLVO IPS 1200 which is fitted engines. It's a real day-cruiser or weekender which ...
See the other products
Tecnomar
Length: 19.75 m
Length overall 19,75 m Maximum bearr 5.15 m Displacement 35 tons Fuel tank capacity 3700 L Fresh water tank capacity 1000 L Engines 2 x MAN V8 1200 HP Generator 17,5 Kw INTERNAL DISTRIBUTION Cabins + Bathrooms 3+3 Crew ...
See the other products
Dominator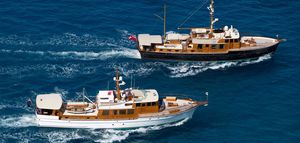 classic motor yacht
Kizbel
Length: 83'00"
... by Eldridge-McInnis with modifications by Russ Woodin. Traditionally built at her original owner's request, this luxury motor yacht has a surprisingly simple layout. The cabin sole throughout is teak and holly and overhead ...
cruising motor yacht
CARNEVALI 68
Length: 20 m
... Customized Line: the Carnevali 68, a 20 meter yacht of new generation, unique in its kind for luxury, electronic management systems, performances and very livable spaces, usually typical of bigger yachts. The ...
See the other products
Carnevali
cruising motor yacht
fiftyywo
Length: 15.8 m
... Perfection of scale Mazu Yachts 52 is a superyacht chase boat with a huge deck spaces to welcome crowded guests on board. The 16-metre vessel is also can equally operate independently as a personal yacht ...
See the other products
Mazu Yachts
cruising motor yacht
48 IN
Length: 15.25 m
For high performance enthusiasts who do not want to sacrifice comfort. 3 cabins, plus the sailor's cabin, a planing speed of 11 kn, a cruising speed of 38 kn and a maximum speed of 44 kn Technical specification Unladen displacement 18.00 ...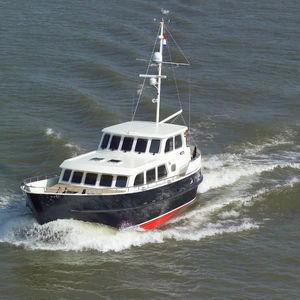 river navigation motor yacht
1670
Length: 17.15 m
Almkotter 1670 AK Cruise on a high level This heavy built touring boat takes you to the Mediterranean without bunkering (the range of the fuel supply is 2000 nautical miles). Plate thickness of the hull is 6 mm, the superstructure 4 ...
See the other products
De Alm 
Length: 18.2 m
Main basic interior fittings Gamma 16 Layout 3 cabins- Twin Version GENERAL FITTINGS WOODS Solid wood on customer wishes from our line Parquet on chose from our line W d bli d f li Wooden blinds from our line Standard orthopaedic ...
See the other products
Gamma Yacht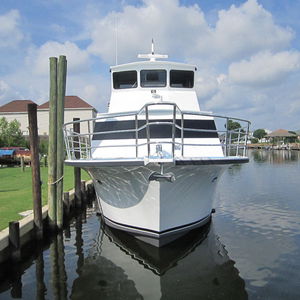 Length: 21.64 m
The "New" Newton 71' x 18' model is now available and the custom possibilities are endless. With over 252 square feet in the salon area and over 240 square feet below there will be plenty of room for all the amenities desired. No matter ...
See the other products
Newton Boats