The Online Boating and Maritime Exhibition
Length: 23.64 m
... Fiber + GRP Exterior styling & conceptAlberto Mancini Interior designerAchille Salvagni Architetti Keel0 BuilderAzimut Yachts
See the other products
Azimut
cruising mega-yacht
AMADEA
Length: 106.1 m
See the other products
Lurssen Yachts
charter super-yacht
YS 4508
Length: 45.6 m
... yachting are changing. Owning a YS 4508 is redefining the luxury yachting lifestyle. Use it to boost the capability of your yacht and create your own fleet, or as a stand-alone vessel, or as your toy and gear carrier ...
cruising motor yacht
ECO-TENDER
Length: 25.5 m
Requested as an extension of a 50m Perini Navi sailing yacht, the 25m Eco-Tender mirrors the graceful looks, quality feel and luxurious comfort of the mothership. The beating heart of this mini superyacht is her flexible ...
See the other products
Perini Navi
Length: 48.35 m
The new 49m tri-deck yacht follows the iconic Sunseeker exterior lines and offers exceptional space and volume, with an interior that can be styled to each owner's unique taste via Sunseeker's 'Bespoke' service. The theme ...
See the other products
Sunseeker
Length: 65 m
OUTLINE SPECIFICATION Hull type: Full displacement, twin propeller Motor Yacht Builder: Baglietto S.p.A. Hull and engineering: Baglietto S.p.A. Exterior design: F. Paszkowski Interior design: F. Paszkowski, Baglietto ...
See the other products
Baglietto spa
cruising motor yacht
GRAND BANKS 60 SKYLOUNGE
Length: 19.9 m
... knots) define the Grand Banks 60 Skylounge. And thanks to incredible stability, you'll feel confident at the helm of this luxury yacht in any ocean conditions.
See the other products
Grand Banks France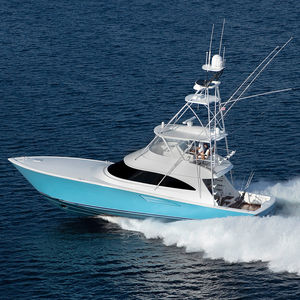 Length: 17.96 m
... the first owners began to take delivery, word was spreading throughout sportfishing ports around the globe that the Viking Yacht Company has delivered yet another bluewater champion destined for greatness. "We're successful ...
See the other products
Viking Yachts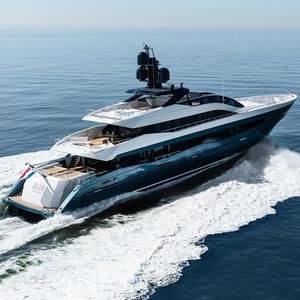 cruising mega-yacht
IRISHA
Length: 51 m
Irisha is a 51-metre semi-displacement custom motor yacht with an impressive top speed of 25 knots. Her exterior lines, designed by British studio Harrison Eidsgaard, are founded on the successful engineering platform ...
See the other products
Heesen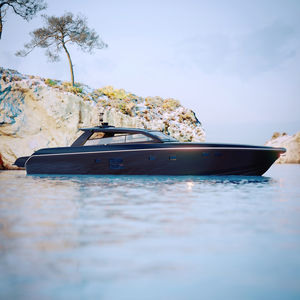 cruising motor yacht
85' GTS
Length: 26.05 m
... at shore enjoying the sea life in full safety, Luxury and unconventional performances and reliability 24h. All that a Mega yacht Captain and Owner they demand is reliability at all times and limitless choice. Do not ...
See the other products
Otam
classic motor yacht
62 flybridge
Length: 17.68 m
Vicem 62 Classic Flybridge If there is one word that describes our 62 foot offering, it is flexibility. There is sufficient interior volume to choose between spacious two and three cabin designs, to offer luxurious galley-up or galley-down ...
See the other products
Vicem Yachts
Length: 18.5 m
We tried to create the ideal yacht, the result was the Fiart 60.This is because we realised that there is no one universal idea of perfection, we all have our own concept of it.With this in mind, our engineers, in collaboration ...
See the other products
Fiart Mare
cruising super-yacht
MANGUSTA OCEANO 43
Length: 43 m
Hull STEEL Superstructure ALUMINIUM Length Overall 141′ / 43.00 M Beam ...
See the other products
Overmarine
Length: 16.6 m
Infused with beautiful lines, sleek new flybridge and legendary Tiara accoutrements, the F53 Flybridge will put you on top of the world. Sit back comfortably in ample, inclusive spaces that connect captain and guests. Enjoy the views ...
See the other products
Tiara Yachts
cruising motor yacht
655 Coupe
Length: 19 m
... benchmark that must be celebrated. Astondoa decided to honor the occasion by launching an exclusive, new range of compact yachts. The Coupé fleet marks an evolution towards boats that are more modern and bold. It has ...
See the other products
Astondoa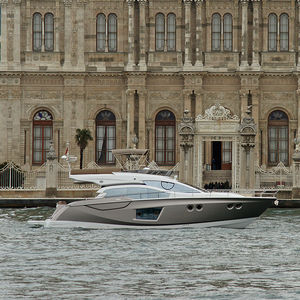 cruising motor yacht
FLY 54
Length: 16.36 m
Yacht FLY 54 range Flybridge Line. A real design product. The concept of Flying has been revolutionized thanks to its outstanding sports skills, perfectly integrated with the boat shapes, which make it one of the most ...
See the other products
Sessa Marine
cruising motor yacht
60 FLY
Length: 18.49 m
LENGTH OVERALL APPROX.60 ft 8 in BEAM MAX APPROX.15 ft 10 in DRAFT (INCL.PROPS) APPROX.4 ft 4 in HEIGHT ABOVE WATERLINE APPROX.22 ft 6 in CONSTRUCTION HEIGHT APPROX.9 ft 5 in DRY WEIGHT APPROX.57.400 lbs PASSENGERS AND WEIGHT APPROX.14/3.090 ...
See the other products
Cranchi
cruising motor yacht
L550
Length: 17.14 m
Balance is achieved through the pursuit of perfection. The L550 delivers that balance by marrying substantial capability with transcendent aesthetics. This is beauty that inspires and substance that delivers, together in a harmonious ...
See the other products
Sea Ray L Class
Length: 20.2 m
Pearl 65 continues Bill Dixon's design ethos of beautiful craftsmanship with cutting-edge innovation and superb seakeeping. The four-cabin interior is set off by Kelly Hoppen's famously stylish, effortlessly calming decor. Add to that ...
See the other products
Pearl Motor Yachts Limited
high-speed motor yacht
60' FURIA
Length: 18.28 m
The Magnum 60 Furia is the fastest yacht of this size in the world. Equipped with between 1600 and 2600 HP each MTU or Caterpillar twin diesel engines coupled to Arneson surface drives, she may reach speed of up to 75 ...
See the other products
Magnum Marine
cruising super-yacht
W112
Length: 34 m
The Westport 112 | 34m offers eloquent proof of Westport's leadership in the design and construction of exceptional motor yachts. Crisp, contemporary styling balanced with timeless traditional appeal keynotes a vessel ...
See the other products
Wesport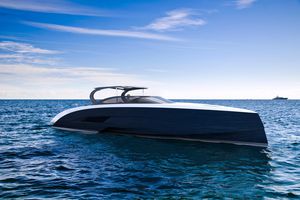 Length: 19.4 m
A beautiful design where sleek lines and curved surfaces flow uninterrupted from stern to bow. A strong sweeping shoulder gives an aggressive, yet sensuous look. FULL SPECIFICATION Length over all: 19.4m/63ft Beam over all: 6.3m/20.5ft Speed: ...
See the other products
Palmer Johnson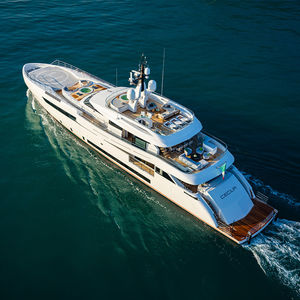 Length: 49.56 m
... enhance the owner's contact with the sea, while significantly increasing interior volumes compared to other 165' motor yachts. This yacht has been launched in May 2018 and will be ready for delivery in summer.
See the other products
Wider
cruising motor yacht
C52 COUPE
Length: 15.79 m
The New C52 Coupe. Everything you want in a Coupe and so much more. Carver Yachts is continuing to blaze new trails in the mid-size luxury yacht market with the introduction of its new C52 Coupe. With ...
classic motor yacht
64' FLY
Length: 19.4 m
Apreamare 64′ fly is the formal development of the original Gozzo Sorrentino. The outdoor areas are defined as essential and elegant. In the area of ​​the bow there is the well-known U-shaped sofa, while the stern area, the key point ...
See the other products
APREAMARE