The Online Boating and Maritime Exhibition
... with Net Bag Drink bottle Holder with Bungee Clip The Play is the most versatile kayak available today! Designed for just about everyone! Perfect as a first kayak that you child can ACTUALLY PADDLE ...
See the other products
Cobra Kayaks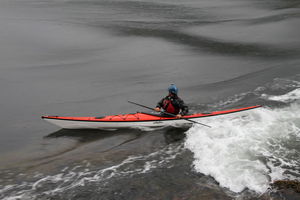 ... new kayak called the Raven, chosen for the playful nature of this bird. This boat was a departure from typical sea kayak design at the time as Tom Derrer, from his whitewater roots, wanted a more responsive, ...
See the other products
Eddyline Kayaks
We are very excited to introduce a boat for the next generation of paddlers. We began the development of this boat by traveling all over to talk with instructors, parents, sons, daughters, nieces and nephews about what type of boat young ...
See the other products
Liquidlogic
... better for it. The detailing on the Twist is equivalent to our higher-priced kayaks. High-quality, bayonet-style valves are used in three separate main chambers. The kayak can be paddled to shore in ...
See the other products
Innova

Touring kayak in traditional design. Excellent performance on rivers, lakes and coastlines. Fast and good tracking kayak with a shallow arched hull. Lots of loading capacity.
See the other products
Gatz Kanus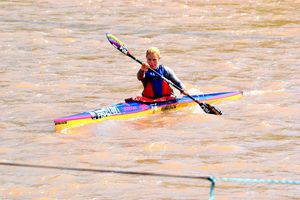 Vantage Pro – first in our new kayak range, the smallest, 38cm widest point in cockpit area, multi purpose – designed to be a good sprint, marathon and river K1…and our sexiest K1 ever!!!!!!!! Michelle Eray winning the ...
See the other products
Knysna Racing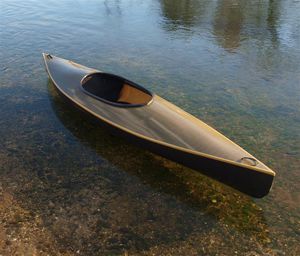 Featherweight, nimble, effortlessly fast - The Wing Solo Kayak is the most beautiful, lightest kayak available. Jet black colored pure carbon hull is contrasted by the deck's golden hue. 20 lbs, 11.5' ...
See the other products
Wing Systems
Urban dwellers love the Gremlin for its portability and maneuverability. No need for a car, with Gremlin you can paddle anywhere. Technical Specs LENGTH / BEAM: 12′ / 34″ (3.66m / 86.36cm) HEIGHT: 13″ (33.02cm) WEIGHT: 27 ...
See the other products
Folbot
sit-on-top kayak
Yogakayak
Rotax launches the production and distribution of the Yogakayak, already well known in Canada (price at the Annual Design Competition on Montreal Institute). The Yogakayak has many avantages. The kneeling position allows a safe position ...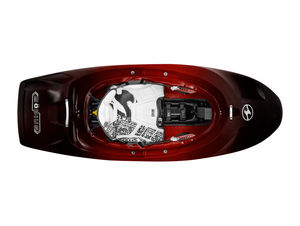 IT'S ABOUT YOU AND THE WATER. RELEASE YOUR POTENTIAL. NO RULES - ONLY FREESTYLE Our freestyle machine is short and fast with forgiving qualities that allow beginners to the sport to learn and progress quickly, while offering seasoned ...
See the other products
Wave Sport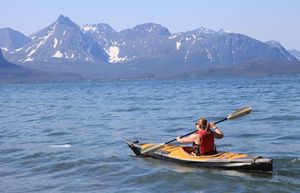 folding kayak
PUFFIN SACO
... with other kayaks of similar size. Very light 20 pound weight makes it saco-side-viewmuch more responsive than similar plastic kayaks, weighing more than twice as much.The Saco can carry camping gear ...
See the other products
Pakboats/ScanSport, Inc.

folding kayak
HARPOON I 450 Basic
Includes : – Frame (SKU: S) – Hull CSM –hypalon or TPU with airsponsons (SKU: S) – Seat (SKU: F2SS) – Carry handles (SKU: S) – Repair kit (SKU: ARKU) – Packing bag oneseater 1 part (SKU: PB1-1) – Rudder bracket (SKU: F021) – ...
See the other products
Wayland Folding Kayaks

sit-on-top kayak
PATHFINDER
... generation of great fishing kayaks. Stand, sit, paddle, pole, motor, troll, float… deep water reefs, coastal flats, rivers and ponds. This boat does it all! Featuring the same patented outrigger as the Freedom 12, this ...
See the other products
Freedom Hawk Kayaks
See the other products
Hody Sport
rigid kayak
Cetus 1710 HV
The boat for getting out there and getting away from it all! The 'Cetus' is a fast cruiser designed as a load carrier. It has become the natural choice for paddlers looking for a stable expedition platform or a fast, easy to paddle boat ...
See the other products
P&H Sea Kayaks
sit-on-top kayak
Outlaw I
Like the NRS Bandit IK before it, the Outlaw I Inflatable Kayak comes to steal your heart. Its rigid floor and extra width create a craft that's stable enough for beginners while making adrenaline junkies smile. All at ...
See the other products
NRS
The Move Angler is the perfect kayak for kids and smaller paddlers getting into the sport of kayak fishing. It is based off the popular Move kayak, which has been a favorite among paddlers ...
See the other products
Feelfree Gear
See the other products
ARWEN MARINE
... seats and foot wells this will quickly become the kids favourite beach toy this summer. With 6 brass inserts moulded into the kayak fitting the optional loop deck fittings (pictured above) means you can easily add attachment ...
See the other products
Mission Kayaking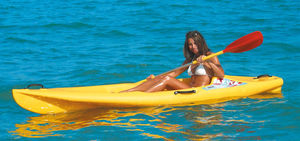 Dimensions: 290x75x40 cm Cockpit: 120x48 cm Weight: 20 kg Polyethylene Fast and stable. Very resistant on shocks and wear and tear. Equipped with wear-proof nylon heel and paddle. Optional item: watertight storage compartment. Available ...
See the other products
MARTINI COSTRUZIONI NAUTICHE
KAYAK "OASIS" FOR TWO ADULTS & 1 KID Its advantages are the stability, versatility and comfort. At the back and at the front it is possible to clip various objects for easy access on the fly. It can be paddled solo ...
sit-on-top kayak
CALLETTI™ YACHTLINE - KAYAK
... Introducing the KAYAK@CALLETTI.COM, this high quality kayak has all the features a solo paddler needs. The weight-to-length ratio of the KAYAK@CALLETTI.COM offers ideal balance and stability, ...
sit-on-top kayak
Ticayak 290
Inflatable kayak with 2 seat and very rigid floor (15 psi pressure) for all conditions : rapid water, lake, sea or waves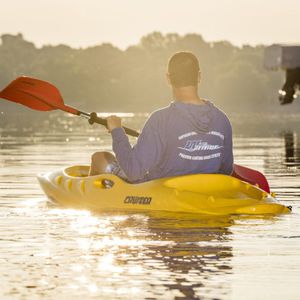 The Wave Armor Cruizer Kayak is our entry-level kayak designed for beginning or occasional paddlers! This sit-on-top style kayak is durable and will last for years with our Roto-Molded ...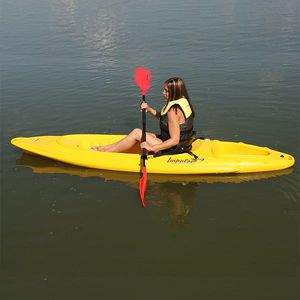 Our deluxe kayak! This sit-on-top style kayak is a comfortable, ultra-stable and fun recreational kayak designed for use on lakes and slower moving rivers. The Impulse Kayak ...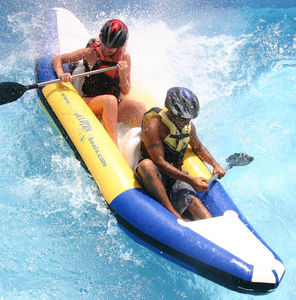 inflatable kayak
3,40 mt. K
The two seater D-Tex Kayak is light and easy to inflate and is the ideal family kayak used on rivers and at sea. It has an inflatable bottom with pressure relief valves and stability is ensured by ...