The Online Boating and Maritime Exhibition
Unsinkable and selfbailing Sit-On-Top (double or single) with anatomical footprint, easy to use and funny. Ideal for rental, resorts and tour operators. Easy to carry. It comes standard with drain plug, two carrying handles and storage ...
See the other products
Scoprega
rigid kayak
SERINE 12'0''
Recreational Kayaks / Serine Recreational to light day touring kayak with the focus of comfort and stability in mind. Weighing in at 31lbs, the Serine was built for the lightweight minimalist in mind. ...
See the other products
Current Designs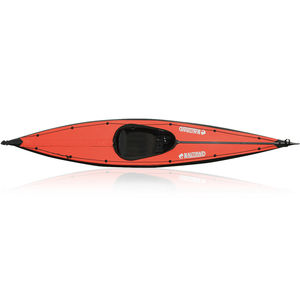 The new Narak 405 Cross is a crossover kayak, which means it can be paddled at sea and in rivers or lakes. Its short length makes it easy to manoeuvre, even in small rivers, thus the Narak line of its bow and its particular ...
See the other products
Nautiraid - Squale - Ckl
... Lightweight: Pick the boat up and you'll feel what an unwavering commitment to making the world's lightest plastic freestyle kayaks is like. On the water your moves will be snappy, easy, and you'll be given every advantage ...
See the other products
Jackson Kayak
sit-on-top kayak
TAHITI™ CLASSIC
Head out to the shore in any car when you pack a Sevylor® Tahiti™ Classic 2-Person Kayak. This inflatable boat works just like a traditional kayak, except when you're ready to pack up, you can fold it ...
See the other products
Sevylor
The Ripper takes the #FastIsFun ethos introduced by the 9R, and combines it with a playful stern for an extra dose of adrenaline. Standout features of the design are generous bow rocker for a dry ride, a highly surfable, supremely ...
See the other products
Pyranha
**AVAILABLE NOW - The world's only aluminum kayak!** A recreational kayak that lasts! Combining both lightweight maneuverability and durable design into the world's first aluminum kayak ...
See the other products
Osagian Canoes
... Team Tested, Paddler Proven" heritage that's trusted by the most renowned instructors and paddlers in the world, the Mamba kayak offers serious refinements that will make it the top planing hull creeker on the market. ...
See the other products
Dagger
* Designed for one rider * Removable seats * Removable & adjustable foot rest * Reinforced rocker design * Self-bailing value * Professional carry handles * Linear tracking skegs * I-beam inflatable floor * ...
See the other products
SEA-DOO®
The Ottawa inflatable kayak is designed for all kinds of water, with its long ultra streamlined shape and directional stability.In addition to its performance, Ottawa kayak also offers premium comfort ...
See the other products
Sevylor® Europe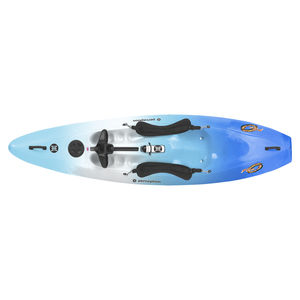 The Five-O surf kayak mixes high performance and fun in a user-friendly package.The ingenious design is stable and predictable enough for adventurous newcomers to surfing, yet quick and manoeuvrable for expert competitors.Rapid ...
See the other products
Perception
sit-on-top kayak
Tetra 10
Sleek and sporty, the Tetra series is perfect for the small to medium build paddler. Compact and easy to maneuver the Tetras are equipped with the unique Comfort Hybrid seat back. Nimble and fun - perfect in a variety of water conditions.
See the other products
Ocean Kayak
Dimensions Length4,80m Width82cm Height side35cm Max hight37cm Weight42kg Displacement340kg Cockpit inside230cm x 61cm
See the other products
Roteko s.c.
Fast turns and paddling speed The Vapour has the benefits of both manoeuvrability and straight line speed. Integrated bumpers reduce volume and drag. Reduced volume in both ends results in fast turning and the fast straight line speed ...
See the other products
Revenge. The P&H Company
... Composites presents his open Kayak. A new design based on these four premises: - unsinkable - small size - good-performance - handling Easy and comfortable to carry. His open configuration facilitates the ascent to ...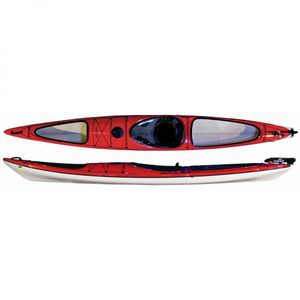 ... a slender, hull fine-tuned to soft, easy movements, providing a dry ride in waves, an impressive touring speed, and solid kayak control. The hull is rounded with just a hint of chines midships to combine speed and ...
See the other products
SeaBird Designs AS
Driftsun Voyager 2 Person Inflatable Kayak Hit the Water in Minutes! The Driftsun Inflatable Voyager Kayak the ultimate compact solution for those who looking to cruise, paddle and explore rivers, ...
See the other products
Marketfleet, Inc. Driftsun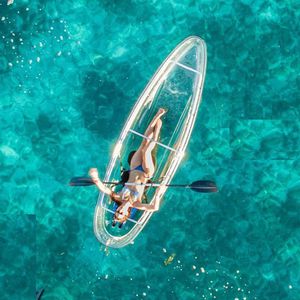 sit-on-top kayak
Explorer
The Crystal Explorer by The Crystal Kayak Company is a totally crystal-clear canoe-kayak hybrid that lets users observe the underwater world below them! The Crystal Explorer features durable yet lightweight ...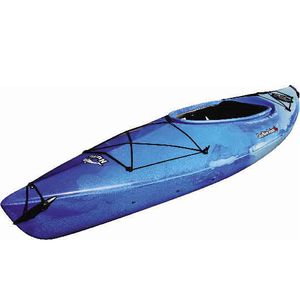 ... Weight: 42 lb. Cockpit: 34" x 16" Capacity: 250 lb. M.S.R.P. $549 DESCRIPTION: The NUNU is our most compact and lightweight kayak. At 28" wide, this design offer exceptional stability. With its great maneuverability, ...
See the other products
Clear Water Design
rigid kayak
K1 FALCON C series
The Falcon C is our latest line of flat water racing kayaks. It is based on the most popular model on the market and available in 3 K1 & 2 K2 sizes. Our sprint kayaks are manufactured in 5 main construction ...
See the other products
Kape-Sport Kft.
An ideal wilderness sea-touring canoe/kayak hybrid. The Sea-1 can be paddled with either a canoe or kayak paddle. Features a large cockpit, 9.5′ in length, which provides easy access to cargo. With a ...
See the other products
Clipper Canoes
Timewarp The Timewarp is our whitewater slalom race kayak that is also great for river running as well. With a great hull speed and fast turning capability, it makes a great boat for training, and racing as well as a ...
See the other products
Savage River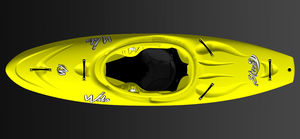 Waka kayaks are excited to present our newest and perhaps most amazing creation to date. The Steeze is a boat that has been created from our passion to deliver the kayak we as paddlers most want. Our ...
See the other products
Waka Kayaks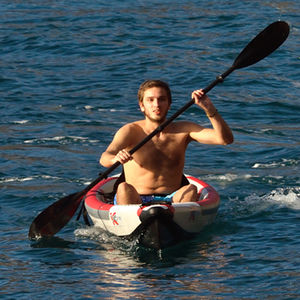 sit-on-top kayak
SLIDER350
... Ability to cut through and ride over waves, giving you hard-shell kayak performance and experience in an inflatable kayak. Self-bailing drain valves allow water to drain out easily when the kayak ...
See the other products
Zebec
sit-on-top kayak
K-480 / K-530 / K-560
Advanced 100% scam wclding of inflatablc tubes to obtain the extra safety Strong armed PVC fabrie gives perfect protection against stones Unique nose shape does not afraid high waves Confortable kayaking for a many hours long Mo traumatic ...