The Online Boating and Maritime Exhibition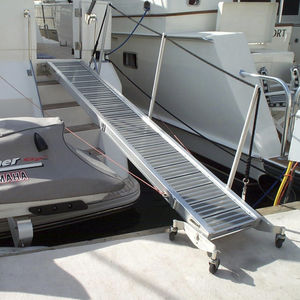 Length: 4.57 m
... effective boarding with your choice of tread surface. Folding and two-section options available for easier stowage of longer gangways.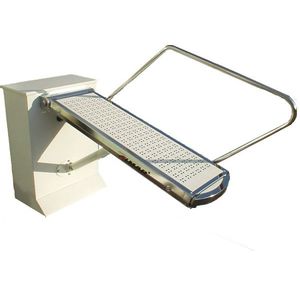 Length: 2.3 m
Description: ​ Telescopic gangway with 4-channel radio remote control. Self-supporting. All movements fully hydraulic (up/down, in/out) Saltwater resistant, monolithic cross-section made of stainless steel with electro ...
See the other products
Almar
... UV resistant wheels Single piece male and female fittings Options include Stanchions and rope handrail Laser engraved boat name/ logo Teak deck Storage bag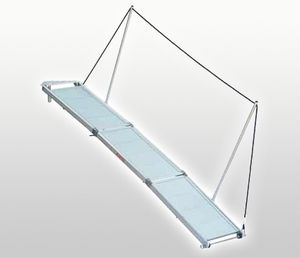 Length: 2 m
... positioned in several places on the boat, by means of a nylon and carbon combined socket, into which the pin of the gangway-board will be inserted. Moreover an additional stainless-steel support allows ...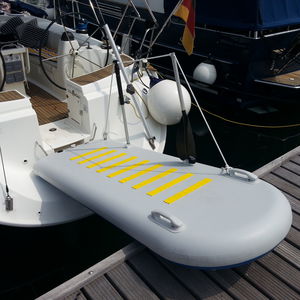 SUPerGANGWAY is inflatable gangway which can be also very useful on sailing trips as:SUPwave surfflat fendernautical platformcleaning platformtender (dinghy)rescue vesseland so much more…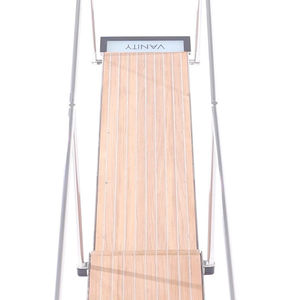 Length: 4.38 m
... is inserted in line with the boat's black windows and, looking from the outside at any yacht mounting them, Infinity disappears. Among its technical features, the "box" (thus the room where it is placed, inside the ...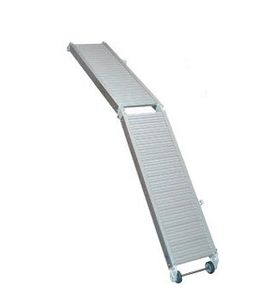 Length: 3, 2.5, 2 m
GANGWAY IN ALUMINIUM Completely manufactured with anodized aluminium. Supplied with plastic wheels, stanchions supports and turning pivot pin.
See the other products
CEREDI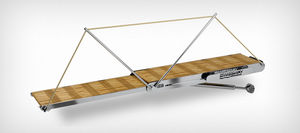 Length: 1.54 m - 2.54 m
The external gangway FENICE is a fully automatic positioning nautical equipment intended for the passage of people during the loading / unloading from the dock. - All structures are made of AISI ...
See the other products
Swissway
Make-A-Bridge® gangways install securely and easily with new or existing marine facilities. Make-A-Bridge® offers lightweight, strong and low-maintenance structures that are impervious to corrosion. ...
Length: 1.8 m
A gangway is the bridge between the boat and the land. But when it comes to handling a gangway it is always a problem. A gangway with a good weight limit is heavy. On ...
... equipments, for boat launching, hoisting, access facilities according to the international regulations and to the customers requirements. The company has extended its range of products and has developed hull doors, ...
boat gangway
931.600 / 931.650 / 299.052 / 950.160
Length: 2.5, 2 m
Our 3000 series carbon fibre passerelles can extend up to four metres. The superior weight savings from the use of carbon fibre has become a key consideration in yacht design. For us the weight savings mean that the passerelle can span ...
See the other products
C-QUIP
Length: 3.5, 3, 2.5, 2 m
... full length of gangway Stainless steel lifting and telescopic actuating cylinders. Possible to mount the hydraulic and electricalpower units even to conhned and narrow places by their small dimensions. System is Suitabie ...
See the other products
Ezberci Marine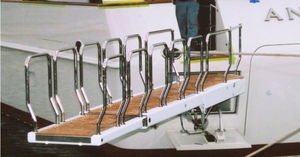 Length: 5.98 m - 6.46 m
... section includes an additional telescoping plank section. The passerelle folds in a "stacked" fashion when stowed. The Nautical Structures' unique folding design opens into a rigid 'locked' position, providing a boarding ...
nautical gangway
Mulhouse
nautical gangway
Montbazon