How to choose this product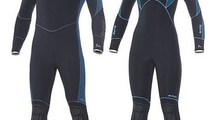 Neoprene wetsuits are thermal protection garments for water sports. They also protect against abrasions, stings, bites and similar dangers.
Applications
Since it is used in a variety of water sports, wetsuit characteristics vary with intended use. Models exist for scuba diving, water skiing, kitesurfing, windsurfing, dinghy sailing and other sports.
Technologies
Neoprene is a quick-drying, elastic rubber material providing good thermal protection. Its thickness determines its insulating characteristics.

Full suits cover the entire body, while shorties reach only to mid-thigh. Some are sleeveless, while others have short or long sleeves. A jacket is often worn over sleeveless versions. Some suits have attached hoods. A vertical front or back zipper, or one across the shoulders makes it easier to get into and out of the wetsuit.
How to choose
Intended use and water temperature are the two principal criteria in choosing a wetsuit. For example, a scuba wetsuit is thicker than one used for surfing because the former sport involves longer immersion times. This also makes it less flexible, especially around the shoulders.
Advantages
- Good thermal protection
- Variety of models for different sports
- Newer neoprenes are more flexible
Disadvantages
- Not watertight
- Friction, seawater can cause irritation