How to choose this product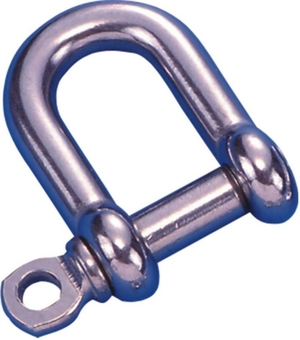 A D-shackle is a metal fitting composed of a U-shaped piece closed by a pin, often threaded. It is used to fasten or join rigging or other on-board elements subject to significant loads.
Applications
These fittings are used for temporary or movable fastenings. They are found primarily aboard sailboats, but can also be of use on powerboats, for example to connect an anchor to its chain.
Technologies
Unlike bow and twist models, D-shackles are U-shaped. This restricts the freedom of movement of the connected elements. When forged, both shackle and pin have round cross-sections, making them particularly strong. Flat shackles are cut from sheet metal. They are lighter, but not as strong.

The shackle pin may be threaded or held in place by a cotter pin. Pins with a cross-hole in the tab at the outer end can be moused, or wired to the shackle for added security.
How to choose
Shackles have a specific breaking load. To choose the appropriate diameter, determine the maximum stress the shackle will bear. Flat shackles, lighter and less costly than forged models, can be used where loads are light or in non-crucial settings.