How to choose this product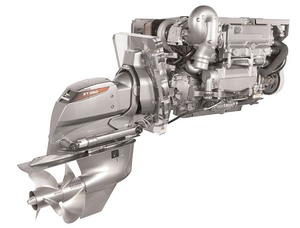 A stern-drive engine consists of an inboard engine connected to a stern-drive mounted through the vessel's transom. This configuration is sometimes called inboard/outboard, or I/O.
Applications
Boats equipped with stern-drive engines are often geared for speed. The inboard motor/stern-drive combination permits installation within the hull of an engine more powerful than a transom-mounted outboard motor.
Technologies
The stern-drive mount is attached to the inboard engine through the transom. The stern-drive serves as propeller and rudder. It is also possible to raise the stern-drive in shallow waters or to carry the boat on a trailer.
How to choose
This configuration combines the advantages of both inboard and outboard propulsion. The boat can be pulled out of the water on a trailer, avoiding the need for a berth in port. Inboard diesel engines reduce fuel costs and offer more power, eliminating the need for multiple outboards.
Advantages
- Better weight distribution
- More power
Disadvantages
- More expensive
- More complex installation