How to choose this product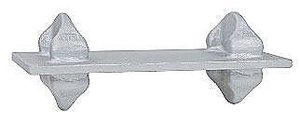 A stacking cone is one component of a container lashing system. This conical or pyramidal metal piece can be welded to the deck or placed between stacked containers.
Applications
Such cones fit into holes at the corners of containers. They do not lock the containers together, but merely keep them aligned.
Technologies
The single stacking cone for deck installation is a flat plate with a cone on one side. When used between stacked containers, the plate has a cone on each face. The double model has four cones.
How to choose
Selection will depend on the cone's load capacity. Intended use will determine choice of single or double cones, for deck installation or placement between containers. Cones should be approved by a recognized agency.
Advantages
- Minimal maintenance