How to choose this product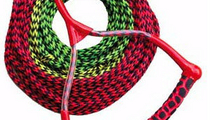 A ski handle is a yoke at the end of a tow rope. Its transverse bar is gripped by water skiers, wake-boarders and those engaged in similar sports while being pulled through the water by the boat.
Applications
These devices are necessary for all types of towed water sports.
Technologies
There is little difference between wakeboard and water ski handles. Both are composed of a length of rope with a tubular handle covered with a non-slip material. The handle floats for easy retrieval after a fall.

Multiple handles can be used by several skiers simultaneously. Double tube handles can help stabilize a monoski during take-off. The length of some models can be adjusted quickly during skiing. Handle length and diameter will depend on the rider's build and ability to ski one-handed.
How to choose
Find a model with a comfortable, functional grip whose length and diameter are adapted to your build and skiing style. Aesthetics also may play a role.