How to choose this product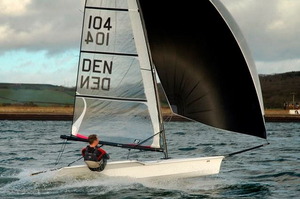 A single-handed sailing dinghy is small, fast and has a retractable centerboard. It is often cat-rigged, with a mainsail and no jib.
Applications
Both individual enthusiasts and sailing clubs use these craft for recreation, training and racing. The best-known designs include the Optimist, the Finn and the Laser. These small boats usually can be trailered or placed on a car roof, making them easy to transport to vacation or racing venues.
Technologies
The hull is generally made of laminated polyester/fiberglass. Polyethylene, stronger but heavier, is sometimes used. Most masts are two-part to facilitate transport. There is either a retractable daggerboard in a case or a pivoting centerboard. The rudder also can be removed for easy launching and recovery. Some sail plans include a jib or a spinnaker.
How to choose
If you intend to race in one-design events, check with local clubs to find out which classes are most common in your area. Other factors include ease of rigging, transport and sailing in light of your experience and physical abilities.