How to choose this product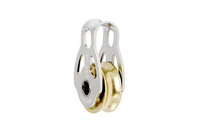 A single block has only one sheave. Models differ in size, sturdiness, attachment and bearing systems.
Applications
Such blocks can be used in two-line block and tackle, as an intermediary pulley in multi-block tackle or as a line lead block.
Technologies
Each of the many different attachment systems is appropriate for a particular type of block. There are two main bearing configurations. In blocks with mechanical or plastic ball bearings, two sets of bearings support the load in races on either side of the sheave.

Roller bearings sit in pairs between the races within the sheave. While sometimes found in small blocks, they are more often used in large-diameter models, as they can support higher loads and wear more slowly.
How to choose
Line diameter and working load will be the main choice criteria. Manufacturers include detailed technical information in their catalogs.