How to choose this product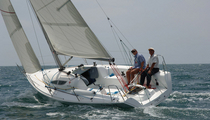 One-design sailboats are built following an International Class design. They can be used in regattas; by evening out technical aspects, one-design sailboats allow to test the participants' abilities.
Applications
One-design sailboats are designed for regattas (solo racing, two-handed races, crewed races, etc).

They are fast and relatively easy to maneuver.
Technologies
For cost-related reasons (one-design sailboats must remain affordable if the class is to succeed internationally), such crafts are generally made of composite fiberglass or polyester fiber, rarely of carbon.

They feature extensive sail surface. Precise regulations detail the maximum/minimum dimensions of the craft's elements, and the allowable modifications the sailboat can receive after construction.

Some famous one-design sailboats: Sélection 37, M34, Melges 24, J24, J80, Surprise et Grand Surprise, Swan 42, First 36.7, Figaro I et II, etc.

Many of these crafts distinguished themselves in the Tour de France à la voile, the Solitaire du Figaro, the Transat AG2R, etc.
How to choose
Find out what sailboat classes are most used in the area where you plan to navigate.