Mainsail furlers
How to choose this product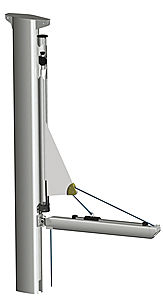 The mainsail furler rolls the mainsail around itself inside the mainmast. NauticExpo offer different mainsail furlers including electric and hydraulic models.
Applications
The primary function of the mainsail furler is to roll the mainsail within the mainmast.
Technologies
When tension is applied to a cylinder within the mast, the mainsail is furled by rolling around itself. Some furlers use small electric or hydraulic motors for automatic furling. These are used primarily for large mainsails.
How to choose
Choice will depend on the size of the sail and of the mast.
Advantages
- Rapid mainsail furling and unfurling
- Convenient
Disadvantages
- Requires maintenance
- Requires thicker mast
- Difficult to reef the mainsail
5
companies |
12
products (boats or nautical equipment)
Sailboat
Facnor
The FACNOR Mainsail reefing system allows you to sail in complete comfort and total security. It marks the end of struggling to reef in rough seas; in one simple operation you will have the sail adjusted...
Extend the search
Search by manufacturer
Search by catalog