How to choose this product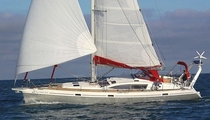 A lifting keel sailboat has a system for raising its keel, allowing it to sail in very shallow waters.
Applications
A lifting keel is a major advantage for exploratory forays up a river, for example, or for sailing areas of the globe where shallow water is prevalent, as in the Bahamas.
Technologies
The lifting keel contains lead or other ballast (otherwise, it would be known as a centerboard). Thus, the boat will be self-righting only when the keel is down. In other words, the vessel should not be sailed with the keel raised because its center of gravity is too high for stability. The boat may proceed under power with its keel up for entering or leaving port or an anchorage, or for negotiating inland waterways. These keels can be pivoting or slide up and down within a trunk. The operating system may use hydraulics, pneumatic power, a worm gear, a rack or an electric or manual winch.
Advantages
- Reduced-draft options
- Good keel-down upwind performance
Disadvantages
- Requires heavy, complex machinery
- Keel trunk occupies large space
- Little stability when the keel is up