How to choose this product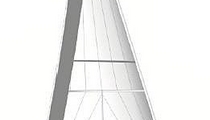 A genoa is the largest headsail which can be used on any point of sail, from beating to reaching.
Applications
This sail is ideal for use with roller furling on cruising sailboats. Racers employ it when sailing close-hauled or reaching in light to medium winds, replacing it with a spinnaker or gennaker for running.
Technologies
Racing and cruising genoas differ in several ways. The latter usually use traditional horizontal panels of Dacron, polyester or HydraNet®, sturdy and inexpensive materials. The shape is rather flat when intended for use with roller furling.

Racing genoas are cut from many different light, stiff materials such as carbon, Kevlar®, Pentex®, Cuben®, Mylar®, aramid and Dyneema®, each with advantages and disadvantages. Their manufacture is more complex and often more expensive, involving thermo-molding or other techniques. Tri-radial cutting results in a more aerodynamic shape with more even camber, offering better performance.
How to choose
Choice will depend on cruising or racing use, mast height and luff length. Another factor is whether the sail is hanked to a stay, uses a hollow stay or roller furling.