How to choose this product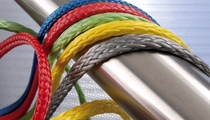 Dyneema® is a registered trademark of the DSM company for its ultra-high molecular weight polyethylene fiber. This extremely sturdy material has physical and mechanical properties advantageous in marine cordage. This line is available unjacketed, fully or partially jacketed (wear points only).
Applications
This line is found on sailing dinghies, cruising and racing vessels. Shipboard use for mooring and towing is rare, but growing. It is used on boats primarily for halyards and sheets, but can also serve at reef points, on roller furling, block and tackle, for running backstays and standing rigging. Fabric shackles are often made of Dyneema® because it is easily spliced.

Compared to polyester line, equal strength can be had with smaller diameters, offering substantial weight savings. NB: Finishing the line with an eye splice is preferable to using a knot, which can reduce breaking strength by 40%.
How to choose
Choice will depend on diameter, length, jacketing and color, as a function of intended use. Boat and gear characteristics, especially those of sails and masts, are also important factors. Advice from a sailmaker, ship chandler, boat yard or other professional source is recommended.
Advantages
- High breaking load
- Low stretch; precise adjustment
- No water absorption, saving weight
- Durability; UV resistance