How to choose this product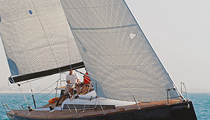 Crafts using wind propulsion require rigidity (resistance to deformations) and lightness to be efficient. Carbon fits such velocity requirements.
Applications
Carbon sailboats are most often found in the regatta world.

Amateur yachtsmen are however becoming increasingly interested in these crafts, especially in luxury classes (carbon remaining costly to manipulate). Such vessels combine comfort and velocity, and can be used for cruising and competitions.
Technologies
Carbon usually "sandwiches" the hull, the intermediary level being a honeycomb core (Nidaplast, Nomex) or a PVC foam layer.

Construction usually occurs under vacuum, via injection or infusion. For optimum results, the carbon must be baked.
Advantages
- Very lightweight, very rigid: excellent efficiency
- Modern look
Disadvantages
- Costly
- Breaks upon impact
- Uncertain ageing