How to choose this product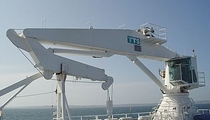 An articulated crane is composed of a tower on a rotating platform and an articulated arm for lifting and lowering heavy loads. NauticExpo features many different types including deck, port and wheeled port cranes.
Applications
Such cranes are used to load and unload ships, and to move cargo from place to place.
Technologies
These cranes are characterized by an articulated arm that can fold back onto itself when not in use. The base can be either fixed or mounted on rails, caterpillar treads or tires. The support tower has bearings allowing it to rotate on its base. The articulated boom, or jib uses a cable system for lifting operations.

Mobile models usually have hydraulic legs attached to the base to ensure stability when lifting. Some versions feature a raised control station or cabin for the operator.
How to choose
Choice will depend primarily on load capacity and crane dimensions. A mobile base also should be considered.