The Online Boating and Maritime Exhibition
Length: 6.1 m
eLex 610 – natural elegance built with passion Elegance and highest boatbuilding quality characterize this world premiere of the Austrian lake Woerthersee. The eLex 610 combines design and practical use and disclose their added value ...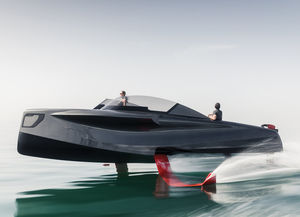 Length: 9.6 m
The FOILER is a radical evolution from any regular yacht. Its fully carbon fiber hull is designed not only for a 007 look, but is also promised for easier takeoff, a smooth landing, and comfortable sailing without using the foils. Its ...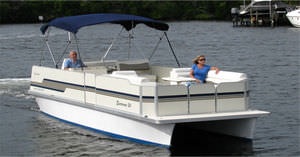 inboard pontoon boat
ElectroCat
Length: 7.92 m
This large pontoon is great for families, fishing, entertaining friends or cruising on lakes, rivers or intracoastals. These are just the beginnings of your many Fun- Deck or Fisher experiences. Take a close look at the new ElectroCat ...
See the other products
Ray Electric Outboard
catamaran cabin cruiser
CRUISER 29.5
Length: 9 m
Outcut 29.5 is a towable catamaran with variable widths with a unique habitability in just nine metres and an unprecedented efficiency. It can be supplied with an open or cruiser set-up and equipped with a combustion or electric engine ...
See the other products
OUTCUT
outboard express cruiser
Nexus Revo 870
Length: 8.7 m
The premiere of the season 2017 Nexus Revo 870 is a vessel designed to meet the expectations of the most demanding shipowners in the sector of displacement and semi planing yachts. We connected its nautical qualities, verified in its ...
inboard cabin cruiser
WINDRUSH
Length: 7.82 m
The Windrush 25 launch is the brilliant new boat from Bossoms Boatyard for entertaining family and friends - or maybe just for a couple who sometimes want to leave the busy world behind! As traditional Thames river launch builders, we ...
See the other products
Bossoms Boatyard
inboard center console boat
18 Snug Harbor
Length: 5.61 m
Designed based on our extremely popular Duffy 18′ Packet and 18′ Balboa models, the Duffy 18′ Snug Harbor features some exciting new improvements. One of the major differences is the new, redesigned hull, which has been widened to really ...
See the other products
Duffy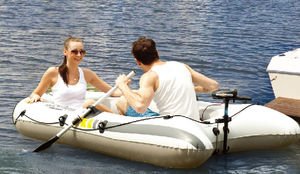 outboard inflatable boat
Motion
Length: 2.55 m
Recreational. Family. Sport boatA great little performer in bay or calm ocean. Motion will sure be your favorite water toy as it's so easy to handle and is very nimble. Electric trolling motor is attachable.Key Features Premium and ...
Length: 39'00"
Heliodive is an Aluminum Catamaran designed for scuba diving.She is an electrical powered Catamaran, equipped with 4 to 8 high power lithium batteries and solar panels (10 kWh).This Catamaran is a modular Catamaran and is appropriate ...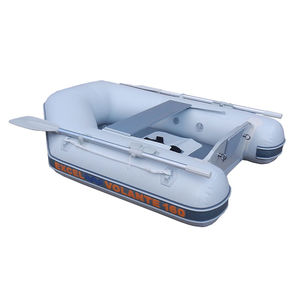 outboard inflatable boat
VOLANTE SD160
Length: 160 cm
The smallest inflatable available on the market! Packed with features and at a great price, it carries a 5 year warranty on material and manufacture. This inflatable boat uses professional grade 1100 Hytex Fabric throughout its construction, ...
See the other products
Excel Inflatables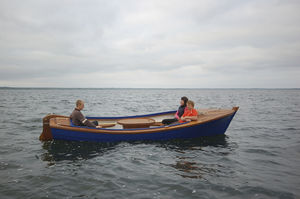 electric small boat
Linda 520
Length: 5.25 m
Lindvart OÜ, an innovative boat-builder from Saaremaa, has fineshed designing and building a innovative electric boat This elegant and silent designe boat is usable also inland lakes and rivers, where the use of regular motorboats are ...
outboard center console boat
268E
Length: 8.2 m
Our 268E tender is 100% electric - not a hybrid - and performs to a level which puts it on a par with diesel-powered electric tenders. As an exceptional guest tender, we think it can't be beaten on aesthetic, performance and its uncompromising ...
solar-electric powered center console boat
Uno
Length: 5.25 m
An integrated and walkable foredeck of solar cells, a powerful electric motor, LED lighting, a luxurious interior, a unique look and ample seating for 7 people: we would like to introduce you to the Supiore Uno. The first boat of our ...
Length: 3.38 m
KART SPECIFICATIONS Lenght: 3.38 m /Ft: 11,15 Beam: 1.36 m / Ft: 4,44 Weight: 58 Kg Max people: 4 Max engine: 8 KW COMFORT Removable bow seating Waterproof bag can be carried as a shoulder bag Ergonomic ...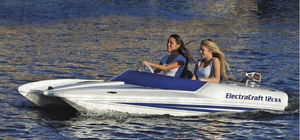 center console catamaran
12CSX
Length: 3.51 m
The X in the 12CSX stands for e"X"citement. While the other models in the ElectraCraft family of environmentally friendly and family oriented pleasure boats stress luxury and freedom of movement, the 12CSX is built for fun and speed. ...
See the other products
ElectraCraft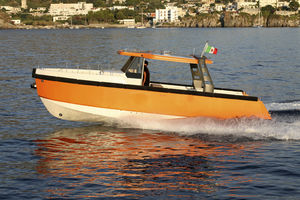 solar-electric powered express cruiser
EC 30
Length: 9.53 m
The binary modular systems in the main deck, represents a real revolution in the nautical world. Through some simple elements, endless solutions can be developed for the main deck, giving life to the ship owner creativeness. Modularity ...
See the other products
ETHOS
inboard runabout
Admiral 570 Lifestyle
Length: 5.65 m
Specifications Length 5,65 Width 2,1 Weight 650 kg Crew 6 Maximum engine power 16 KM CE Category C/D
See the other products
Admiral Boats S.A.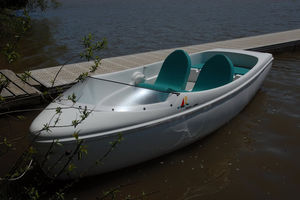 electric small boat
ENCORE E
Length: 14'02"
The Encore is the perfect boat choice for couples and families. With side-by-side fully padded recumbent seats and a bench seat in the rear, a group of 4 can take a spin out on the lake with ease. But don't be fooled by the size, one ...
electric small boat
Lightning Bug
Length: 4.57 m
The 15' Lightning Bug has been considered the jewel of electric boats ever since we started making them in 1987. Elegance is reflected not only in the lines of the boat, but also in its simplicity and practicality. Its unique cockpit, ...
See the other products
Budsin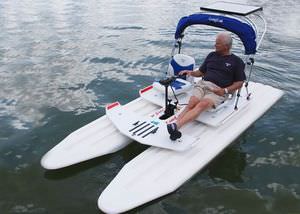 catamaran small boat
ELECTRIC
Length: 3.45 m
Going green couldn't be easier! This battery-powered alternative cruiser is whisper quiet and extremely easy to operate thanks to point-and-go steering. The CraigCat® Electric will allow you to get up close and personal with nature like ...
electric small boat
19 FOOT ELECTRIC LAUNCH
Length: 6.02 m
19 Foot Elco Electric Launch For comfort, safety, roominess, simplicity, cleanliness, for everything, in a word, that a pleasure boat intended for short cruises ought to be, the electric launch carries off the palm. The 19-foot ...
See the other products
Elco Motor Yachts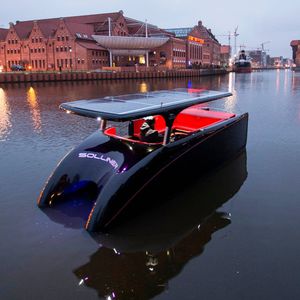 catamaran small boat
Catamaran Electrico
Length: 6.2 m
Flash Catamarans is pleased to announce that it has signed a lightweight agreement to market as Broker, the new solar catamaran Solliner, a boat with a very innovative design and 100% solar - powered, completely silent, and at the same ...