The Online Boating and Maritime Exhibition
See the other products
Jiaxing Waldo industry Co.,Ltd
Lifting capacity: 364, 455 kg
The Whisper Davit series offfers a high strength, lightweight crane at an affordable price. It identifies as the Whisper Davit for it's whisper-quiet operation while it performs dual functions. It's compact ...
See the other products
Steelhead
Special crane with ball bearing for mast stepping Also available as foldable jib With manual or electrical adjustment Manual hoist, electric chain or wire hoist available Ladder as an option
Lifting capacity: 70 kg
The "C" MPI davits are made of Inox316 in our workshops. They fit on all boats thanks to the Girofix mounting. They are suitable for lifting an annex of about 70 Kgs (type 2m50,2m80). Ideal type AX2 AX3 Thanks to its ...
See the other products
Mondial Plaisance Industrie
Lifting capacity: 40 kg
This new and practical outboard motor lifting crane (from the boat to the tender and back) is completely made of carbon material, that is why it is very nimble, weight-light but tough at the same time. The quick and easy join connection ...
... bespoke deck mounted, luffing, telescopic, knuckleboom and fully articulating superyacht cranes. Plus we make traditional davits and beam cranes for a tender bay. Yacht Tec were responsible for building the largest MCA ...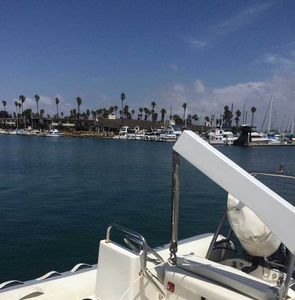 yacht davit
WC SERIES 800 1000
... design of the this Transom Davit uses a power boom to raise and lower the tender and has the ability to extend or retract hydraulically to allow for launching the tender from the stern of the vessel. This compact and ...
See the other products
Brower Systems Inc.
See the other products
Aritex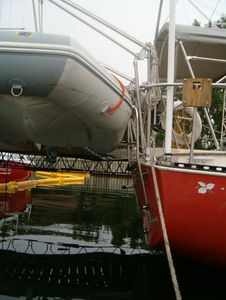 Safe Working Load: 120 Lbs. (each) OR 200 Lbs. (Pair, Davits)(Ideal for 8' Inflatable, up to 5 HP) Purchase: 6:1 Reach (Rail to Snap Shackle): 36" Height (Base to Snap Shackle): 36" Two Year Warranty ...
See the other products
Atkins & Hoyle Ltd.
H3O (Hurley's 3rd Option) . . . the Hottest Dinghy Davit on the market! This rugged dinghy davit system lets you winch your dinghy on for easy storage or just push-off for launching. CAD design ...
See the other products
Hurley Marine Inc.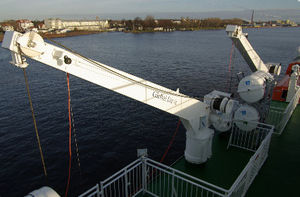 The group name of Lms.-type liferaft cranes represents the simplest execution of slewing cranes for liferafts available: with manually driven slewing features. The systems are in full accordance with the present SOLAS-rules and are MED-certified.
See the other products
GLOBAL DAVIT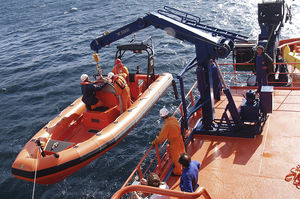 rescue boat davit
Luz de mar
FUNCTION: Swinging davit for rescue craft. CONTRIBUTION: Designed for use in rough sea states, minimizing operation times. Certified MED by GL. OTHER FERRI EQUIPMENT INSTALLED: 8.5m. gangway.
See the other products
Industrias Ferri, S.A.
Lifting capacity: 2,300, 2,500, 3,465 kg
... 25MW21 slewing davit is specifically designed for safe and efficient launch and retrieval of fast rescue boats and life rafts. It is intended for long term, reliable operation in harsh and hazardous marine and offshore ...
See the other products
Norsafe
The ultimate in streamlined boat lift design, Hi-Tide Davits get the job done with minimal structure to impede view or keep up on maintenance. Standard Features Neat, clean appearance No awkward brace in the ...
Lifting capacity: 500 kg
... use as rescue davits on deck or dock. davit arm davit arms are available as standard with baby, 1200mm, 1600mm, 2000mm, 2500mm or 3000mm reach. Choose from manual or electric winch and ...
See the other products
Atlas Carbon
Lifting capacity: 200, 500 kg
Many harbour authorities are now installing quayside unloading davits, enabling fishing vessels to unload quickly, and more importantly, in a safe fashion. We manufacture two sizes. A 200Kg version for lifting fishboxes ...
Lifting capacity: 113 kg
Edson's Stainless Davits keep your dinghy up and out of the water, and look great doing it! Marine-grade stainless construction with 5:1 lifting tackle makes them robust and convenient to use. Optional mounting shoes ...
Our portfolio of lifeboats covers a range of different models and sizes: Free fall lifeboats for 8 to 60 people Totally enclosed lifeboats for up to 70 people Totally enclosed lifeboats in Tanker version Semi enclosed lifeboats for ...
SeaNet Group designs and manufactures standard and custom cranes to offer the best solution for every type of mega-yacht and to meet customers' needs. We offer deck cranes for tender and rescue boat, garage overhead telescopic cranes, ...
See the other products
SeaNet Group
Easy to install & to operate Safe & reliable Suitable for all types of Rescue boats
See the other products
ACEBI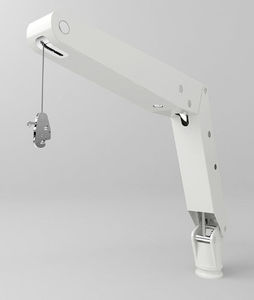 C-Quip has a wide variety of cranes and davits designed to suit most applications and situations. We manufacture from carbon fibre, aluminium or stainless steel. Safe working loads and boom length are tailored to suit ...
See the other products
C-QUIP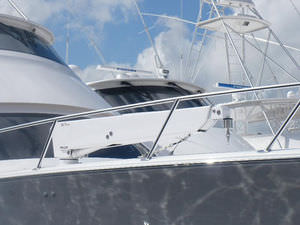 Lifting capacity: 1,100, 1,700, 2,200 lb
... -Crane) davit system is an example of exceptional design for the modern yacht. Its primary material of construction is aluminum alloy, including aluminum hydraulic cylinders, which make the system light and resistant ...
See the other products
Nautical Structures
Sturdy, flexible and reliable davit. Easy to mount and dismunt and can be retrofitted with no need for reinforcements. The davits are avaible with two different stern fittings, one for a straight stern ...
See the other products
Batsystem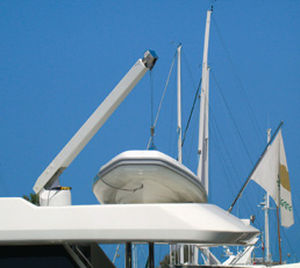 Lifting capacity: 1,500, 2,000 kg
360° revolving crane made of light alloy and hydraulic controls. Power pack and electric panel placed inside the crane base. Construction with rigid or inox telescopic boom. Control by push button panel directly connected to the crane. ...
Heavy Duty Aluminum Dock Davits Built in our shop out of tough heavy wall aluminum and fitted with a pair of ratchet winches, this davit system makes hauling your boat clear of the water uncomplicated ...