How to choose this product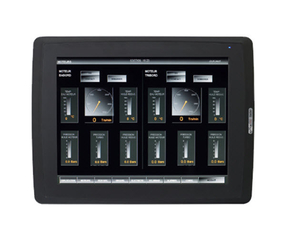 A yacht display screen shows information from various electronic instruments on board including charts, radar, echo sounder, log, video cameras and any other NMEA-linked devices. Touchscreen versions also offer remote control of different functions. Those offered on NauticExpo are intended for leisure craft over 15 meters long.
Applications
The size and cost of these screens makes them best suited for use on big boats with large instrument panels. Small vessels with relatively few electronics generally have no need of such displays.
Technologies
Non-tactile screens are simple VGA monitors which display information relayed by the boat's electronic control center. Buttons provide some interactivity with chart, navigation and related functions.

Touchscreens, in contrast, offer tip-of-the-finger control of everything within the capability of the software, generally a custom program designed for the vessel in question. In addition to graphic interface displays, the screen may be used to manage navigation and other lights, check fuel and water gauges and to control alarms and other equipment.
How to choose
Choice will depend on screen resolution, which determines image quality. High-tech touchscreens offer convenience, but can be particularly troublesome if they stop working correctly.