How to choose this product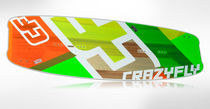 Wakeboards are towed behind powerboats. The rider performs tricks using natural waves and the craft's wake.
Applications
NauticExpo features models for men, women and children, including beginner, experienced and expert riders.
Technologies
The board is generally made of a foam core covered by fiberglass/epoxy. Length and width vary. The board's longitudinal curve is called the rocker. It can be continuous from nose to tail or in three segments, the central part being flat. The rocker determines many of the board's characteristics including edge stability and takeoff.

The underside can be coated with PBT, P-Tex, or urethane, each conferring specific speed, grip and maneuverability characteristics. Some boards have groves for improved hydrodynamics. Fin shape and size also influence performance in the water and in the air.
How to choose
The large number of models and parameters influencing board characteristics makes choosing difficult. The rider's age, sex, height, weight, level of experience and style must be taken into account. Choice of board length, rocker, fins and underside shape and surfacing will depend on the height and length of the waves typically encountered.