How to choose this product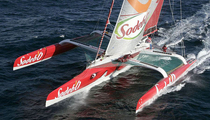 A trimaran is a multihull sailing or motor vessel with one central and two lateral hulls. NauticExpo offers a wide range of sail- and motor-powered trimarans.
Applications
The trimaran comes in many different configurations. In addition to light sailing trimarans, there are sail-powered pleasure and competition trimarans, and motorized trimarans, including high-speed ferry versions.
Technologies
The distinguishing characteristic of the trimaran is its triple-hull design. Since its smaller wetted surface reduces drag, a trimaran will always be faster than a monohull of the same length and with the same motive force. A sailing trimaran can carry a large amount of sail. Motorized models can use high-performance engines.
How to choose
The two primary criteria are intended use and means of propulsion.
Advantages
- Speed
- Stability
Disadvantages
- Reduced maneuverability