How to choose this product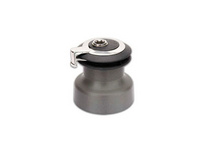 A winch is a fitting which uses internal gearing to increase the force applied to a rigging line.
Applications
Winches have become nearly indispensable on cruising and racing sailboats. In contrast, they are rarely found on sailing dinghies and similar small craft.
Technologies
Usually made of stainless steel, cast aluminum or bronze, winches have an internal gear mechanism to increase the tensioning force that can be applied to a line. The largest models have as many as four speeds, or gear ratios. The line, usually a sheet or a halyard, is wound around an exterior drum. The winch can be operated via a single handle or take the form of a coffee-grinder, a twin-handled pedestal winch operated simultaneously by two crew. There are also electric and hydraulic models. A self-tailing winch has a cleat, in the form of a set of circular jaws, built into the upper part of the drum to keep tension on the line.
How to choose
Choice will depend on the winch's maximum load capacity and available installation space on deck. Self-tailing winches are highly recommended for single- or short-handed sailing. An electric winch consumes a great deal of power, requiring significant battery-charging capacity. Only the largest vessels with ample space and power source can be fitted with the pump and lines necessary for hydraulic winches.