How to choose this product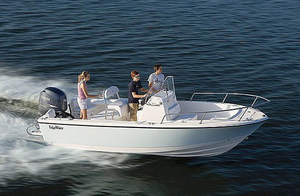 The realm of motorboats is vast and includes highly varied types. Some have rigid hulls, with or without cabins. There also are inflatable and semi-inflatable craft. The term yacht is preferred for luxury models over 15 meters in length.
Applications
Size, configuration, equipment and motor type constitute the determining factors for boat use. This can range from recreational day outings to blue-water cruising and professional activities.
Technologies
Vessel category is determined by its configuration. Motorboats include day cruisers, open boats, runabouts, walkarounds, cabin cruisers and launches from 9.5 to 15 meters. Other types are inflatables, tenders, bass boats and deck boats. In addition, professional and sport fishing boats, lifesaving, blue-water and river craft are differentiated by their specialized equipment and uses.
How to choose
In addition to intended use, choice will depend on length. This determines the possible cabin configurations and the number of people the craft can carry. The sliding length cursor at the upper right of the NauticExpo page allows you to narrow your search.