How to choose this product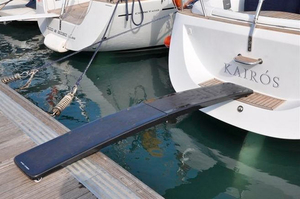 A folding gangway takes the form of a board or plank connecting a vessel to the quay. There are many different sizes and designs.
Applications
The main function of the gangway is to provide a link between a vessel and a dock. A gangway also can be a structural element bridging the gap between two docks, piers or pontoons.
Technologies
Unlike other types, these gangways can be folded in two or more segments to reduce the amount of deck space lost to stowage. Configuration, design and construction materials vary from model to model, though most are metal or wood in the form of a plank. Some operate with small electric motors.
How to choose
The most important criterion of choice is vessel type and size.