How to choose this product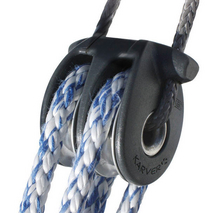 A double block contains two sheaves. It is very widely employed because it can be used to create four- or five-line tackle, considerably increasing mechanical advantage.
Applications
Combined with a becket block, these devices can be used to make efficient five-line tackle.
Technologies
The axis of effort will be determined, in part, by the block's attachment method. Careful mounting will avoid overly large angles. Usually equipped with a ring, the block must be attached with a shackle. This should be chosen carefully to ensure that the tackle is oriented to reduce friction to a minimum.
How to choose
The diameter of the lines and the working loads will be the main elements to consider.
Advantages
- Multiples purchase by four or five
Disadvantages
- Requires a becket for maximum efficiency