How to choose this product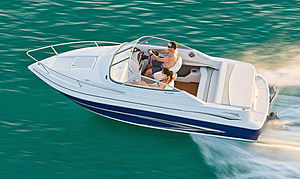 A day cruiser is a powerboat up to 6.5 meters/21.3 feet long with a small forward cabin. The cabin lacks standing headroom, but is long enough for a single or double berth. NauticExpo also offers similar craft in longer versions: cabin cruisers (6.5-9.5 meters/21.3-31.2 feet) and open express cruisers (9.5-15 meters 31.2-50 feet).
Applications
Day cruisers are the most affordable type of powerboat for short, overnight cruises.
Technologies
On NauticExpo the day-cruiser classification indicates a vessel less than 6.5 meters/21.3 feet long. It can have an inboard or outboard engine, the latter offering more cockpit space. Typically, it has a slightly convex foredeck and an open cockpit, though some have a hardtop sheltering the cockpit.
Advantages
- Sleeping accommodations
Disadvantages
- Limited live-aboard features